Kakharu Khatta (pumpkin In Sweet Sour Gravy)
Pumpkins are available throughout the year. Pumpkin is a good source of vitamins and dietary fiber. Pumpkin in sweet and sour gravy is a quick and easy recipe. It gives both sweet and sour taste.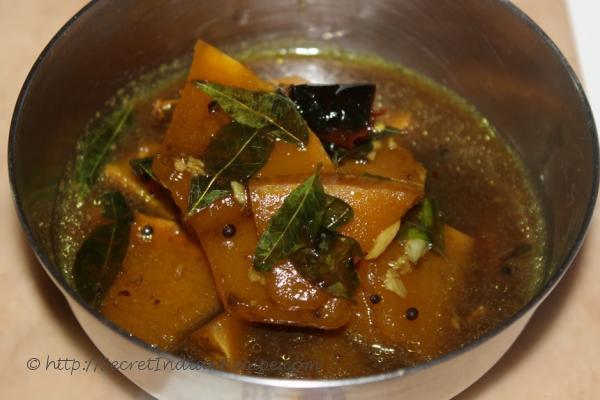 Ingredients:
Pumpkin 2 cups
Tamarind paste 2-3 tablespoon
Sugar 4-5 tablespoon
Salt to taste
Mustard seeds 1/2teaspoon
Garlic 6-7 pieces (crushed)
Curry leaves 2 tablespoon
Dry red chilli 2 pieces
Turmeric powder 1/5 teaspoon
Water 2 cups
Rice Bran oil 2 tablespoon
Directions:
Wash and cut the pumpkins in thin slices.
Boil 2 cups of water in a Kadai. Add tamarind paste, salt, turmeric powder and sugar to it.
Add the pumpkin slices and boil for 15-20 minutes, till pumpkins get soft and tender.
Now the water should have reduced by half, turn of the flame and keep aside.
Heat oil, add dry red chillies, crushed garlic, mustard seeds and curry leaves.
As the mustard seeds starts spluttering, pour the entire mix over it. Allow to boil for more 2-3 minutes.
Ready to be served with rice.
Footnotes:
I have added sugar to the recipe, you can take jaggery 1 cup instead of sugar.