Kancha Kadali Bhaja (raw Banana Fry)
Raw banana is rich in iron which makes it healthy for all. It is a very popular ingredient in oriya households. It is simple, easy and healthy recipe. This is my all time favorite recipe.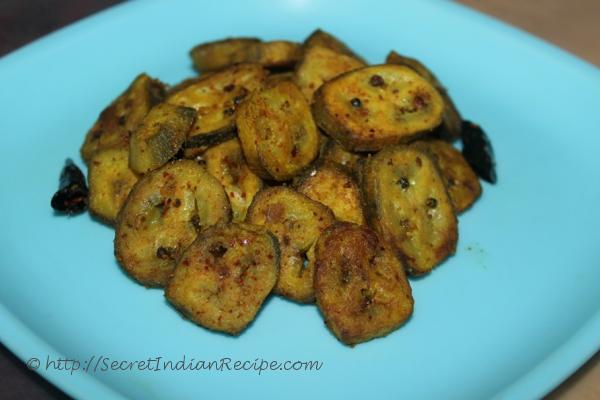 Ingredients:
Raw banana 4 pieces
Turmeric powder 1/2teaspoon
Salt
Mustard seeds 1/2tsp
Dry red chilli 2 pieces
Rice bran oil 2 tablespoon
Cumin with dry red chilli (roasted & ground to powder) 2 teaspoon
Directions:
Peel off the skin of the bananas. Cut into round slices, wash it and keep aside.
Heat oil, add broken dry red chilli, add mustard seeds let it splutter.
Add the raw banana slices, turmeric powder and salt to it and mix well.
Cook in medium flame by covering the lid till banana is semi cooked.
Now uncover and cook in high flame by stirring it, till the bananas turn to golden brown.
Sprinkle roasted and ground cumin with dry red chili powder over it.
The dish is ready to be served as a side dish with rice and roti.