Kandha (onion) Pohay
Best breakfast liked by all the ages. Pohay or Poha is an Indian dish prepared in the Indian states of Maharashtra, Madhya Pradesh, Telengana, Karnataka . Kandha Poha is best known by Maharashtra.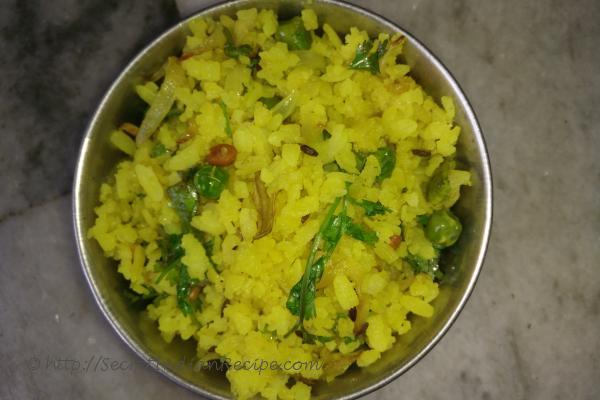 Ingredients:
1/2 cup finely chopped onions
2 cups beaten rice (poha)
2 tbsp oil
1/2 tsp cumin seeds (jeera)
4 curry leaves (kadi patta)
2 tsp finely chopped green chillies
a pinch of hing
1/2 tsp turmeric powder
Salt as per the taste
1/2 cup of green peas
1/2 cup of Coriander leaves for garnishing
Directions:
Clean and wash the rice flakes in enough water and keep aside.Heat the oil in a pan,add jeera,green peas,curry leaves, green chillies, hing and onions and stir on a medium flame for 2 minutes. Add the turmeric powder, salt and then stir for 1 minute until the masala is cooked. Add rice flakes(poha) and mix well and cook on a medium flame for 5 minutes, while stirring occasionally. Place equal portions of poha on 4 plates, garnish each plate coriander evenly .