Kanni Manga Pickle (tender Mango Pickle)
Kanni Manga Pickle is a famous pickle in Kerala. Even though there are so many varieties of pickle, Kannimanga is a special one. It is a tickling pickle. I learned this recipe from my grandmother. It is called as king of all pickles.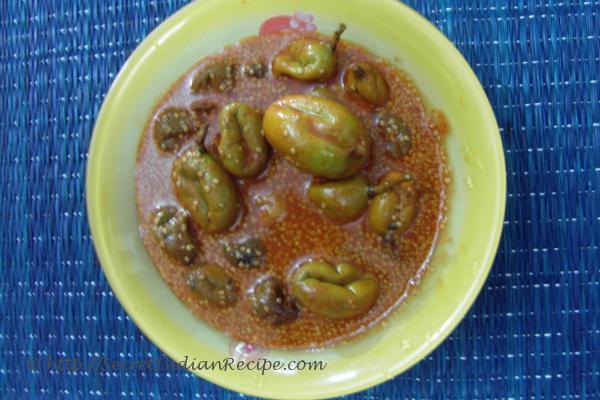 Ingredients:
Mangoes-1kg
Chilli powder-5 tsp
Mustard seeds powder-1/2 cup
Asafoetida-11/2 tsp
Turmeric powder-1tsp
Directions:
Wash mangoes pat dry, and put it in a jar.
Pour boiled cooled water and salt into the jar.
Close the jar with a clean cloth and put lid over it. Keep it for 10 days.
After 10 days take the mangoes out and filter the water in the jar.
To this water add chilli powder, turmeric powder, asafoetida, mustard seeds powder and mix well.
Pour this water back to jar, add these mangoes also. Close the jar again for few days.
After few days we can take and use.
Footnotes:
We have to stir Kanni Manga pickle alternate days in order to prevent from fungus.