Kappa Upma(tapioca Upma)
There are a lot of dishes prepared with kappa or tapioca all over Kerala. However, this is a recipe that originated in my kitchen last month. I tried it as a tea-time snack for my daughter who dislikes eating tapioca, and this recipe made her a tapioca lover. I am sure that this recipe will be new to you, and you will love it-like anything.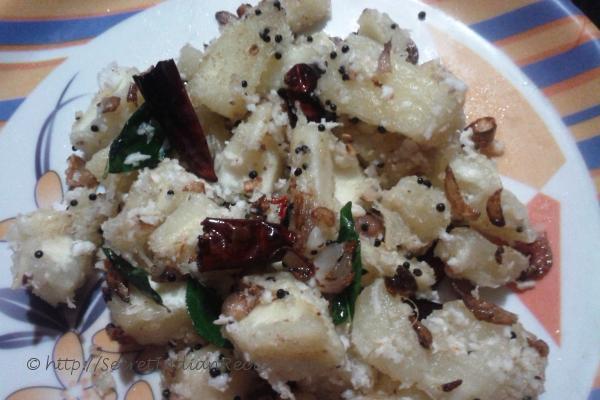 Ingredients:
Tapioca or kappa, cooked - 1 cup.
Grated coconut - 1/4 cup
Green chilli - 4 or 5 nos.
Curryleaves - 2 sprigs
Mustard seeds - 1 teaspoon
Oil - 2 tablespoons
Red chilli - 2 nos.
Small onion, chopped - 5 nos.
Directions:
Cut the already cooked kappa or tapioca into small pieces or cubes.
Put a pan on the stove and switch on the stove.
Add oil into the pan and heat it.
Add mustard seeds into the hot oil and allow it to splutter.
When the mustard seeds splutter, add the green chilli, red chilli, chopped onion and curry leaves into it.
When it gets fried, add the already cooked kappa and the grated coconut, into it and stir well until the coconut and kappa mixes up thoroughly.
Please note that you need not add any salt while preparing upma since you have already added salt when you cook tapioca or kappa (during blenching process).
After two minutes, remove it from flame and serve hot.
Footnotes:
This can either be used as a tea-time snack or as a breakfast recipe.
Tapioca is cooked by boiling in water. After boiling for about 10 to 15 minutes in water, tapioca turns soft and delicate. At this stage drain the water and tapioca is now cooked.