Karela Aur Aloo Ki Sabzi ( Bitter Gourd And Potato Fry North Indian Style)
Karela aur aloo ki sabzi along with dal and rice is the most wanted meal for me when I am in a mood for a simple vegetarian homemade meal. The magic ingredient in this karela ki sabzi is the red chilli pickle. Red chilli pickle is quite spicy and tangy and when added in the karela sabzi, it balances the bitter taste of the karela. Although Red chilli pickle is available in most of North Indian kitchens but if you don't then use lemon juice and it will do the trick.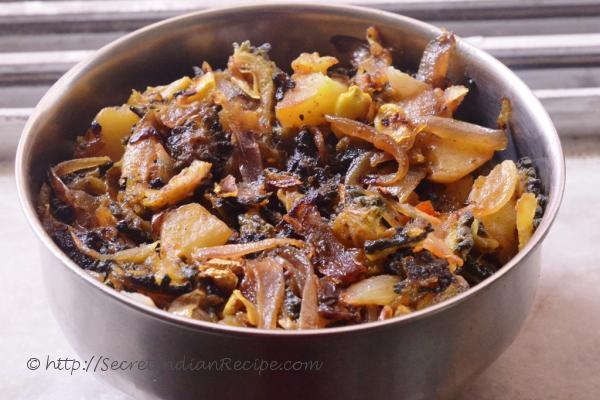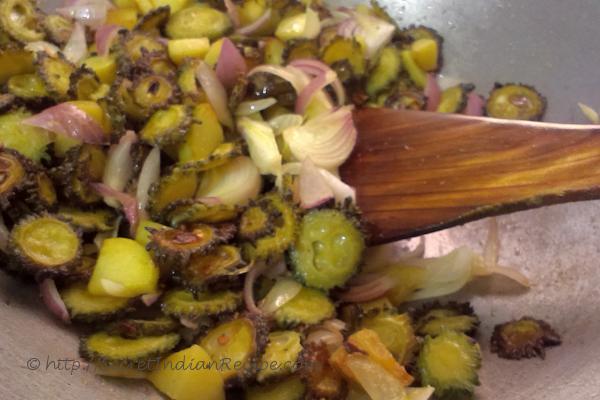 Ingredients:
Karela (Bitter gourd) - 150 grams
Aloo (Potatoes) - 100 grams
Onion - 100 grams
Salt - As per your taste
Red chilli pickle - 1 Tsp (1 pickle pc with a little pickle oil)
Sugar - 1 to 1/2 tablespoon depending on your taste preference
Mustard oil - 4-5 tablespoon
Turmeric and salt- 1tsp for marination
Directions:
Peel the potatoes and chop into small size. Julienne the onions thinly and slice the bitter gourd (karela)
In a bowl take the sliced bitter gourd pcs and add turmeric, salt and keep aside for 15 mins
After 15 mins you will see the a lot of water oozed out by the bitter gourd. Squeeze out all the water, wash the karela in running water and keep it aside
Heat oil in a pan or kadhai and add the potatoes. Fry the potatoes on medium flame and fry till they become light brown. Take them out and keep aside.
In the remaining oil add the sliced karela. Like potatoes fry them till they start browning.
Then add the chopped onions and salt and mix. Add the potatoes and cover the pan with a lid. Keep the flame low and let it cook till the potatoes, Karela and onions are done. This will take approximately 15-20 minutes.
Once the veggies are done, mash the red chilli pickle with a back of a spoon or with your fingers and add it in the pan along with sugar. Mix well and cook for about 2 mintues.
As soon as the sugar dissolves and gets mixed with the veggies, switch off the gas and serve the karela aur aloo ki sabzi with Rice and dal.