Kathirikai Kara Kuzhambu - Roasted Brinjal In Spicy Curry
This roasted Brinjal curry goes well with any Biryani or variety rice or with white rice. It tastes a little sour and spicy. The brinjals are stuffed with a blend of Urad dal, moong dal, fennel seeds and groundnut which give this curry an amazing taste. You can achieve the best result of the curry when you cook this and keep it aside for at least an hour or two.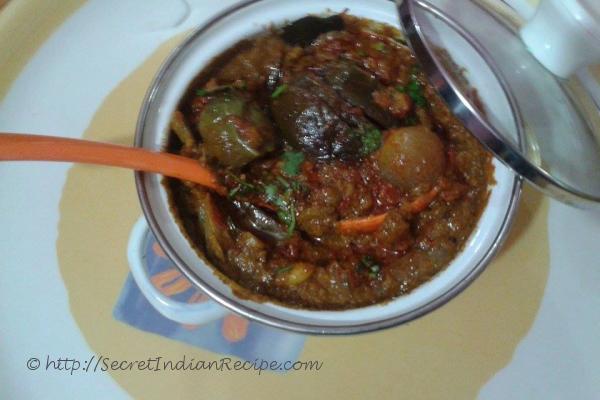 Ingredients:
Brinjal -1 kg
Onion - 5 chopped
Tomato - 6 chopped
Ginger & Garlic paste - 2 tbsp.
Urad dal (Black gram) - 2 tbsp.
Tamarind juice - 2 tbsp.
Moong dal (green gram) - 2 tbsp.
Coriander seeds (dhaniya seeds) - 2 tbsp.
Green chilies - 4 sliced
Chili powder - 1 tbsp.
Coriander powder - 1 tbsp.
Turmeric powder - 1/2 tsp.
Mustard seeds - 1/2 tsp.
Fennel seeds ( saunf ) - 1/2 tsp
Garam masala powder (indian spice) - 2 pinch
Curry leaves - as per requirement
Coriander leaves (cilantro) chopped
Water - 3 cups
Vegetable oil - apprx. 100 ml.
Groundnut - 2 tbsp.
Salt - as per taste
Directions:
Wash and cut the Brinjal into big pieces or just slice it into 4 pieces without cutting it full and keep aside.
Place a pan on low flame and fry the Urad dal, moong dal, fennel seeds and groundnut. Remove it from flame, once it turns golden brown and grind it in mixer to a fine powder and keep it aside.
In the same pan add a tbsp. of vegetable oil and roast half cup of chopped onions and half cup of chopped tomatoes till it changes its color. Remove it from pan, grind it and keep it aside.
Now add 5-10 tbsp. of vegetable oil to the pan, carefully slide the Brinjals in hot oil and sprinkle 1 tsp. of salt and roast the Brinjals till its half cooked. Remove it from flame and keep it aside.
Place the curry pan on flame and add 10 tbsp. oil and mustard seeds, the remaining chopped onions and saute it till it turns golden brown.
Now add curry leaves, ginger & garlic paste, turmeric powder, chili powder, coriander powder and saute it, add the chopped tomatoes and keep sauteing it till the tomatoes are cooked.
Now add the roasted Brinjals and the grounded onion and tomato paste, green chilies, salt as per taste and saute for about 2 minutes.
Pour a cup of water and leave the curry on medium flame for 5-10 minutes for Brinjals to cook well.
Once brinjal is cooked, add the grounded urad dal, moong dal , groundnut powder and tamarind juice and stir it well and leave it for 2 to 3 minutes.
Check the water consistency in the curry, there shouldn't be more water or very less water, so stir the curry often, so it doesn't get burnt.
Check if the Brinjals are cooked well and garnish with coriander leaves and remove it from flame You may serve this hot with Biryani, white rice, roti's, naan, bread.
Footnotes:
You may adjust the sour taste by reducing or increasing the tamarind juice as per your taste.