Kathirikkai Masala Curry (brinjal Masala Curry)
This is the dish I prepared at the Renaissance Restaurant. It was an amazing experience. My family enjoy's this dish and it was appreciated at the restaurant by everyone also.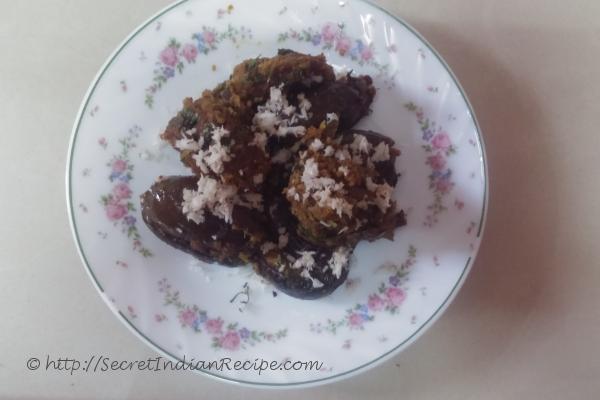 Ingredients:
Brinjal:  ½ kg
Onion: 3 medium  (thin slices)
Tomato: 2 medium (finely chopped)
Green chilies: 4­-5
Garlic: 4­-5 cloves
Ginger: ½ Inch
Coriander: To garnish
Curry leaves: 1 sprigs
Grated coconut: 1 small bowl (fresh)
Roasted gram: 2 tablespoon
Peanuts: ¼ cup
Pepper: 1 tsp.
Sambhar powder:  1­2 tsp.
Cinnamon: 1 inch
Cloves: 3-­4
Cardamom: 2-­3
Coriander Powder: 1 tsp.
Sesame Oil­ :3 tablespoon
Fenugreek seeds: 1 tsp.
Mustard: 1 tsp.
Asafetida: 1 tsp.
Turmeric: ¼ tsp.
Sugar: A pinch
Tamarind juice: 1 tsp.
Salt to taste
Directions:
 Wash brinjal and make slit along the length taking care that the brinjal  remains as a whole.   Heat oil in a heavy bottom pan. Add the fenugreek seeds, mustard,  asafetida and curry leaves.  Allow it to crackle. Add the onions and fry  till it turns pink. Then, add the slit brinjal and fry well. Now add the  tomatoes and let the mixture simmer for a while.   Add salt, turmeric, sugar and tamarind juice to the brinjal and mix well.   Cover and cook over low heat till the brinjal is semi cooked.   Dry roast 2 tablespoon peanuts till they turn pink and grind them coarsely  and keep aside.   Make a dry paste of roasted gram, peanuts, coconut, green chilies, pepper,  sambhar powder, cinnamon, clove, cardamom, garlic, ginger, and  coriander powder.   Add the dry paste to the brinjal and mix well. Cover and allow the  mixture to cook over low heat, stirring occasionally, and taking care not  to split the brinjal. Cook until the brinjal is soft and tender.   Once cooked, garnish with coriander leaves, the ground peanut and grated  coconut.   Serve with phulkas or rice.