Keerai Rasam (spinach Rasam)
I love Rasam maybe the peppery, spicy feeling it lends to my taste buds makes me fall in love with rasam each time I have it. Back home, my mom only made tomato rasam and that was the only rasam I knew. But my years in Chennai introduced me to an array of rasams. This one was a total surprise. Adding palak to rasam was a novelty. It makes the rasam thicker than normal rasam. I use it as a substitute for sambar and have it with idlis. These days we have a steady supply of spinach in our garden and so I make this more frequently. Tastes divine with rice and papad but as I said above, have it with idlis you will love it. I can't wait to show mom my discoveries with rasams and sambars these days.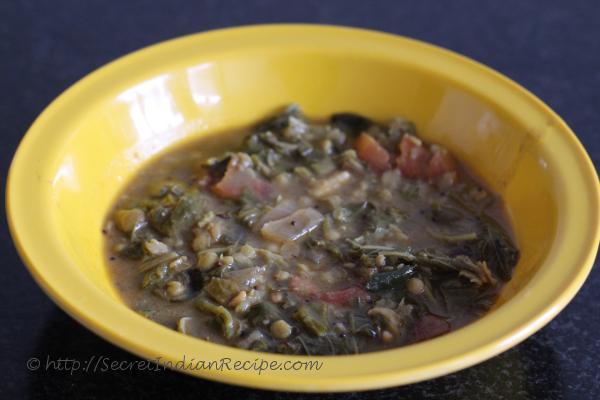 Ingredients:
Spinach- 2 bunches
Split Pigeon lentils- 1 cup
Tomatoes- 2
Capsicum- 1
Garlic- 8 cloves
Ginger- 1 inch piece
Green chilies- 6
Cumin seeds- 1 tsp
Peppercorns-6
Asafoetida- 1/2 tsp
Chili powder- 1 tsp
Turmeric powder-1/2 tsp
Tamarind extract- 1/4 cup
Oil- 3 tsp
Mustard seeds- 1 tsp
Curry leaves- 1 sprig
Dry chilies- 3
Salt- to taste
Coriander leaves- for garnish
Directions:
Prepare tamarind extract by soaking tamarind (which is the size of a lemon ball) in warm water. Extract the tamarind extract after 25 minutes.
Pressure cook the dal up to 2 whistles with 2 cups of water, capsicum and tomatoes. Once the pressure has settled prepare for tempering.
Add salt and tamarind extract to the cooked dal and bring it to a boil. Chop the spinach finely and keep aside.
Make a coarse powder out of cumin and peppercorns using a mortar and pestle.Add spinach to the dal meanwhile and let it cook for 5 minutes.
Heat oil in a frying pan and add mustard seeds and dry chilies. Once they splutter add finely chopped ginger, garlic and curry leaves.
Now add the coarsely ground powder, chili powder, turmeric powder and asafoetida to the tempering. Saute the spices over low flame.
Add this tempering to the dal and bring it to a boil. Simmer for 5 minutes for the flavours to sink in.
Add finely chopped coriander leaves at the end and bring the rasam to a boil and switch off after 5 minutes.
Footnotes:
I have used Palak an Indian spinach for this rasam. You can use amaranthus or any other spinach for the same.