Kokum / Sol Kadhi
Sol/Kokum Kadhi always makes me nostalgic. It takes me to the memory lane of my childhood. I was introduced to this amazing pink colour beverage by one of my neighbor. This family was very unique from others on our floor. The family consisted of 99% elderly members, most of them were in their 60's and 70's. They were like my grannies and grandpa. I being in my early childhood was obviously pampered by all of them :) . My mom says I was mostly spotted in their house nibbling something, may be my foodie nature was developed because of their pampering me with food :) . Sol/Kokum Kadhi was every day on the menu and I used to relish it with plain steamed rice and also drink it plain. It was one of my favorite dish in the thali. All my grannies knew this and they used to serve me with all their love. I remember watching them grind the coconut, garlic and chilli into fine paste on a grinding stone and squeezing out the coconut milk. No electronic gadgets were used, everything was manual.
Now, they are no more but their memories are always fresh in mind. Over the period of time those memories were slightly overlooked due to commitments, stress, workload etc... but never faded.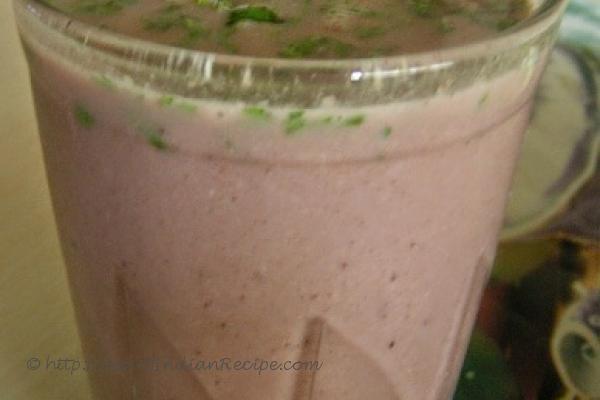 Ingredients:
5-6 Kokum
1 cup scraped fresh Coconut
1 Green chilli or as per taste
1-2 Garlic cloves
Salt to taste
Coriander for garnishing
Directions:
Soak kokum in 1 cup warm water for 15 -20 mins.
Grind scraped fresh coconut, garlic and green chilli with little water to smooth soft paste
Now squeeze this grounded mixture through muslin cloth or fine strainer to get chilli-garlic coconut milk.
Repeat the same process 2 or 3 times (depending on the density of the coconut).
Strain and squeeze out the kokum soaked in water completely.
You will get beautiful dark red colour kokum extract or juice, which is sour.
Discard the kokum as all the flavor is now in the water.
Mix this kokum water to the coconut milk.
Add salt to taste and mix well.
Garnish with chopped coriander and serve chilled.
Footnotes:
Optional Suggestion: 1) Some add sugar to taste, but I personally don't like it sweet so I avoid sugar. And my grannies too never added sugar, so I follow their recipe. If you like you may add 1/2 or 1 tsp sugar (as per taste).
2) Some add tempering to the Kadhi : Heat 1tsp oil add ½ tsp mustard seed, ½ tsp jeera. When the mustard seed starts spluttering add pinch of asafoetida, curry leaves and 1 dry red chilly (optional). Pour this tempering on to the prepared Kokum Kadhi.
3) You can even grind the soaked kokum along with the cocount, garlic and chillies and then follow the same method as above. But please note in this case the colour will not be pink, it will be some what pinkish violet.