Kolhapuri Masala Special Vaangyacha Bharit (kolhapuri Roasted Brinjal Mash)
Well, this a purely traditional Kolhapur style Vaangyacha Bharit recipe, with a few techniques here and there, otherwise an easy one!
There are many types of Baingan Bharta. But what is unique about this dish is that here we have used only a special Kolhapuri Masala
(KandaLasun or OnionGarlic Masala) made out of nearly 50 dried and roasted spices. This masala is easily available in all local grocery stores . Best to buy the masala than make it.( I am attaching 2 pics of the masala)
This Kolhapuri Masala Vaangyacha Bharit is very tempting, unique tasting, smoky flavoured dish . Spicer the Better :)
Best Served with Bhakri (a type of Indian Flat Bread)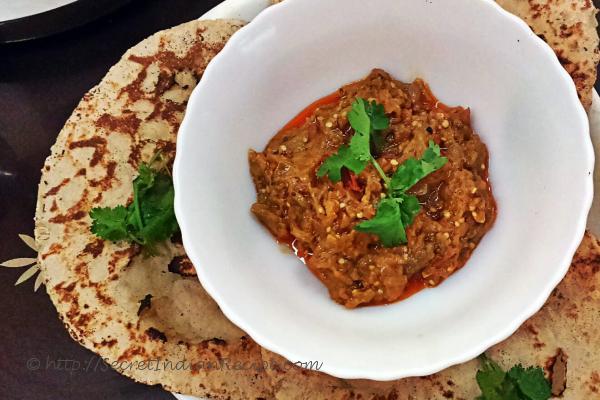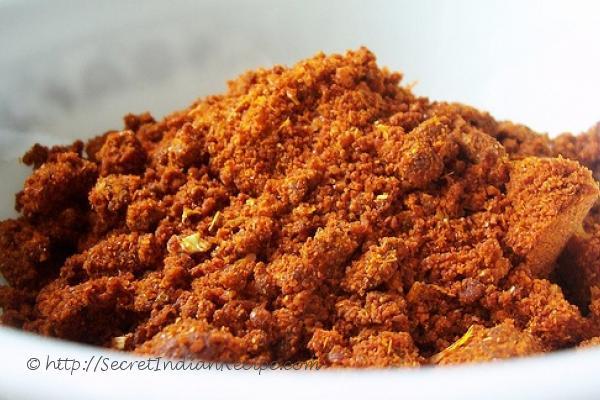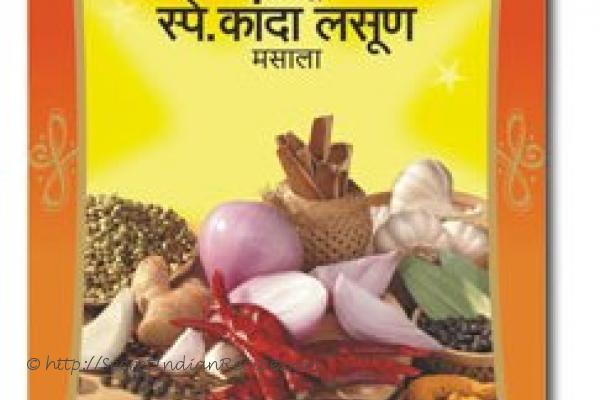 Ingredients:
Brinjals-2
Onion- 1 (Medium to Large)
Onion-garlic masala - 2 tsp (ask grocery store for kanda-lasun masala)
Dried Red chillies- 2
Tomatoes (optional) - 1 (small)
Oil- 2 1/2 tbsp
Mustard Seeds- 1 tsp
Cumin Seeds- 1/2 tsp
Asafoetida- a pinch
Crushed Coriander Seeds- 1/2 tsp
Crushed Cumin Seeds- 1/2 tsp
Garam masala- 2 tsp
Salt- to taste
Coriander leaves- a fistful
Directions:
Roast the brinjals on an open flame/ or microwave- roast option (best if roasted on open flame) until the skin turns black.
Let them cool down a bit, remove the skin of the roasted brinjals completely and de-seed them as far as possible.
Smash the deseeded brinjals by hand or slightly mix in the mixer.
Heat oil in a wok. Add the mustard seeds, and once they pop add in cumin seeds, red chillies, asafoetida.
Immediately add finely chopped onions and garlic cloves, saute till golden brown. Add tomatoes (optional) and cook them for 1/2 a minute.
At this stage, add the 'Kolhapuri Special Onion-Garlic Masala' and saute for 1/2 a minute on low flame.
Now, add "hero of the dish", our roasted, skinless, deseeded, smashed brinjals.
Do not add water at all. Cover with lid and let them cook for 2-3 minutes. Add salt and mix.
Garnish with finely chopped coriander leaves and ready to serve!
Footnotes:
For best results, and natural smoky flavour, roast the brinjals to an open flame.
Do not add any water. It will spoil the dish.
Onion-Garlic (KandaLasun Masala) is a very complex recipe including nearly 50 dried and roasted spices and best to buy it from your nearest grocery store.