Kumbh Matar Masala (button Mushrooms And Pea Curry)
Kumbh Matar Masala is a typical North Indian side dish recipe wherein Kumbh (Mushrooms) and green peas are cooked in Spicy gravy. Kumbh is considered as vegetarian mutton liver in North India and is thus quite popular among vegetarians and among non – Vegetarians during the scared months like 'Sawaan'(Period from August to September) and 'Kartik' (Period from October to Novemeber). The way to cook Kumbh Matar masala is thereby exactly the same as you cook mutton liver or Keema Matar in North India. This recipe is now quite popular in all the food dhabas (Food Joints) if you travel to Delhi and Punjab due to its taste and the rising awareness about the health benefits of Mushrooms but a decade ago, mushrooms were considered as poisonous and evils food and thus it was prohibited among Hindu Population in Northern India. Thanks to the internet and social media which is changing the attitude of common people towards their food habits. I am also sharing this recipe and hopefully, it will make you taste mushrooms, if you have not done so far.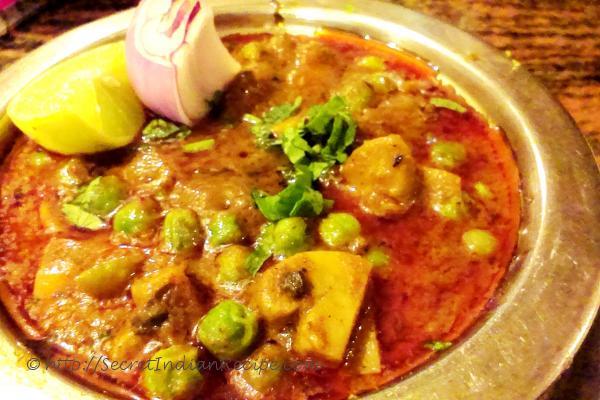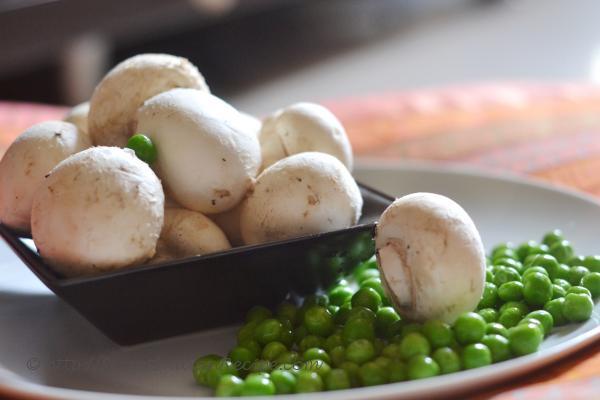 Ingredients:
Kumbh (Button mushrooms) – 250 grams
Matar (Green pea) – ½ cup
Onion – 2 medium sized
Ginger - 1 inch piece
Garlic – 6-7 pods
Tomatoes – 2 medium sized
Cumin powder- 1 tablespoon
Coriander powder – ½ tablespoon
Black pepper powder – ¼ tablespoon
Turmeric powder – ½ tablespoon
Red chilli powder – ½ tablespoon
Garam masala powder – ½ tablespoon
Cashew paste - 1 tablespoon
Poppy seeds paste - 1/2 tablespoon
Fresh Coriander Leaves – chopped for garnishing.
Salt to taste
Mustrad oil - 6-7 Tablespoons
Directions:
Button mustrooms taste best for this recipe. See the second image for button mushrooms. Blanch the Mushrooms in hot water and cut them into four pieces.
Make a paste on onions, ginger and garlic and keep aside.
Make a paste on onions, ginger and garlic and keep aside. Heat oil in a pan and add the blanched Mushrooms. Fry them on medium heat till they just start turning brown. Take them out and keep on a plate.
Now add the Onion and Ginger Garlic paste and fry till the raw smell of the masala evades.
Add the chopped Tomatoes and all the spice powders, Cumin powder, Turmeric powder, Coriander powder, Red Chilli powder, cashew and poppy seeds paste and fry the masala till the tomatoes turn soft and the masala starts leaving oil from sides.
Finally add the Green Pea, Mushrooms, Garam masala and Salt and mix. Add 1 cup of water and bring the curry to boil. Turn the flame to low and cover the pan with a lid. Let the curry simmer for 10-15 mintues or till the pea and mushrooms turn soft.
Check the required consistency of gravy and then garnish it with fresh coriander leaves and serve with jeera rice or Naan.