Lau Saager Chorchori (tender Bottle Gourd Leaves Fried With Spices)
The word ' Chorchori' in Bengali means 'fried vegetables' and any Bengali meal is incomplete without a chochori. Usually it is vegetarian like 'Kumro chorchori'(Pumpkin fry) , Aloo chochori (Potato fry) or ' Dharos chorchori'(Lady's finger fry) but sometimes prawn or tiny fish is added to enhance the taste. Lau Saager chorchori is one of such traditional Bengali delicacy. Many of you may be surprised to know that it is actually a recipe which is cooked out of availability rather choice. Lau (Bottle gourd) creepers are very common in Bengali households especially in villages. While Lau (Bottle gourd) is cooked as vegetable, the leaves and tender stem left behind is consumed as 'Chorchori'. This recipe is a good idea to include more greens and fibre in your food. If you do not find Lau creepers, you can substitute them with Poi saag (Pohi greens).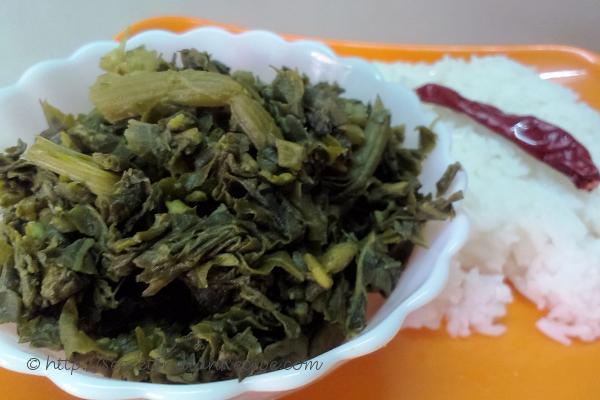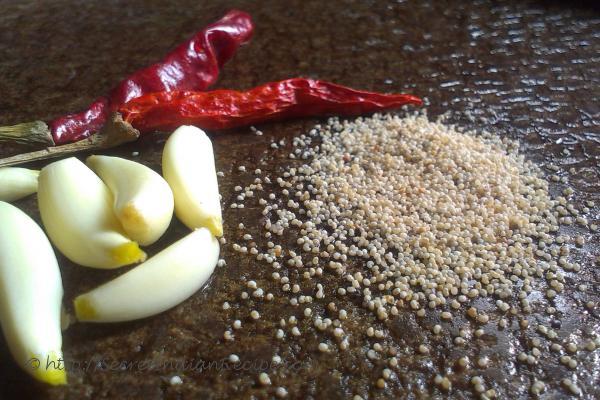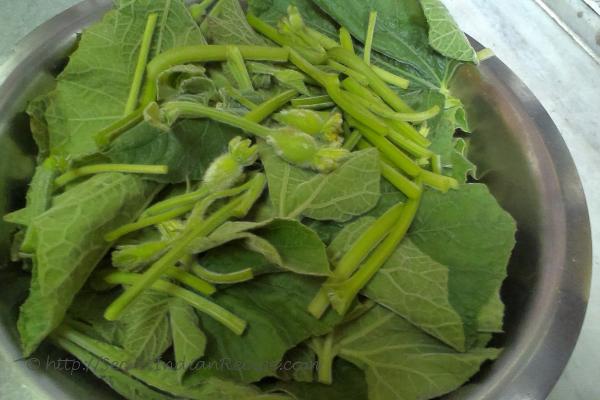 Ingredients:
Lau Saag (Tender Bottle gourd leaves) – 1 bowl or 10 leaves
Garlic – 7-8 cloves
Red chilies – 2 pieces
Posto (Poppy seeds) – 1 tablespoon
Turmeric powder – ½ tablespoon
Mustard Oil – 5 tablespoon
Salt – As per your taste
Directions:
Separate the leaves from the branch and keep aside. You can also cut and cook the tender branches and the fruits along as shown in the picture.
Wash the leaves thoroughly with water for 2-3 times and then chop them finely.
Take a pressure cooker and put the chopped leaves. Close the lid and cook for 2-3 whistles…..You need not add any water since it will release its own water.
Let the steam escape and then squeeze out the excess water. Keep aside.
Grind cloves, red chilies and poppy seeds together with some water and keep aside.
Heat Mustard oil in a pan and pour the grounded cloves, red chilies and poppy seeds paste. Add Turmeric powder and sauté till the masala starts leaving oil from sides.
Now add the saag and salt and mix. Keep the flame low and stir for 5-6 mintues till the saag is coated with the masala. Switch off the gas and serve it with steamed rice.