Lauki Ke Chilke Ki Sabzi (bottle Gourd Peel Fry)
Vegetable peels are full of nutrients so I always thought of using them as food. I made this recipe on my own and this is best used as a side dish with plain rice. It is very easy to make and super healthy. Good for dieters as it uses minimum oil and can be made without oil also. #IndianDietRecipe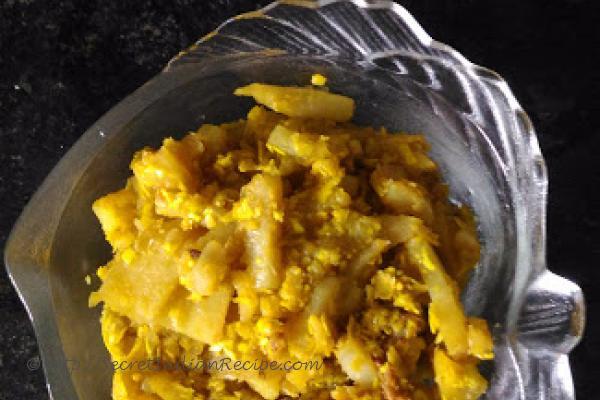 Ingredients:
Lauki Peels chopped (peels of one big Bottle gourd)
1 Small Onion chopped
4-5 Garlic cloves
1 tsp jeera (Cumin)
1/2 tsp Chilli powder
5-6 medium Potatoes cut into small thin wedges
1/2 tsp Turmeric powder
Salt to taste
1/2 tsp Oil
Directions:
Wash the lauki peels and chop them.
Grind together lauki peels, half of chopped onion, jeera and garlic cloves coarsely and without adding any water.
In a pan heat the oil and add remaining chopped onions.
Saute the onion till golden.
Now add potato and the grounded peel.
Add salt, chilli powder and turmeric powder.
Cover and cook on low flame till the potatoes are done.
Open the lid and stir for sometime. Switch off the flame.
Serve as side dish.
Footnotes:
you can skip the oil and onion part and instead directly add the potatoes and the grounded peel in the pan and then follow the other steps. This is equally tasty.