Mango Falooda
Mango Recipes
Mango Falooda is a North Indian rich pudding like dessert , which is layered beautifully with mango puree , mango custard , chopped mango chunks and mango ice cream. An absolute palate pleaser , i would rather call it a heavenly mango dessert. The rose syrup and the sabja seeds give a cooling effect and the falooda sev adds in to the different textures in the layers of this falooda. You can both drink and eat this multi layered beverage cum dessert :)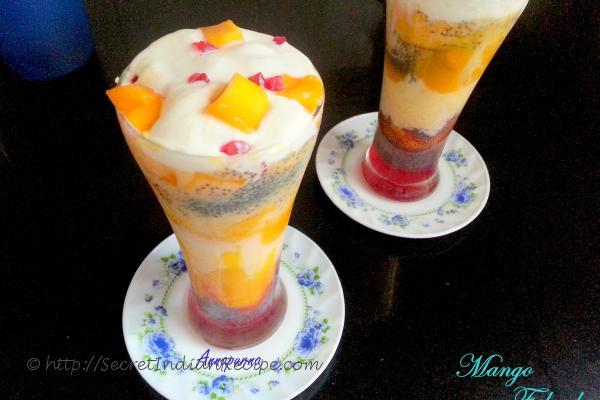 Ingredients:
2-3 tbsp Sabja / Tukmaria ( sweet basil seeds )
3 tbsp Falloda sev
4 tbsp Rose syrup
1 1/4 cup mango Puree
1 1/2 cup milk
3-4 tbsp of sugar or as per taste
1 medium mango , peeled and chopped into small cubes
1-2 tsp Tutti Fruti
2 tbsp custard powder
3-4 scoops of ice cream ( mango or vanilla )
Directions:
Preparing Sabja Seeds : Soak the sabja seeds in 1 cup water for about 20 minutes. The seeds will bloom . Strain the bloomed sabja seeds with a tea strainer and keep aside until use.
Preparing the Mango Custard : Take 1/4 cup milk and add 2 tbsp of custard powder to it . Mix well and keep aside. Now heat the remaining milk in a heavy bottom sauce pan. Once it boils, add sugar and lower the flame and let it reduce for 4-5 minutes. To this add the custard powder mixed milk while continuously stirring to avoid lumps. Let the custard boil and then cook for 1 more minute. Turn off the flame , add 1/4 cup of mango puree to it and stir well and let the Mango custard cool down to room temperature. Refrigerate it until use.
Preparing Falooda Sev : Cook the falooda sev as per the instructions on the packet. Drain excess water using a sieve. Add chilled water to stop further cooking of the sev. Cool and refrigerate until use. Falooda sev is easily available in market. In case you do not get it , use the normal vermicelli and cook it as per the package instructions.
Other preparations: Chill the Falooda serving glasses in the fridge for about 1/2 hour before layering the falooda. Preferably use tall glasses as it shows the layers of the falooda distinctly. Peel and roughly chop the mangoes. Blend them with some sugar ( if required) into a smooth puree. Chill until use.
Layering the Mango Falooda : To each chilled serving glasses first add the 2 tbsp of rose syrup , followed by the 2-3 tbsp of mango Puree. Now add 2 tsp of sabja seeds. To it add the mango custard followed by the falloda sev. Again add the mango puree and repeat the layers until the glass is 80% full . Now top it with 2 scoops of mango or vanilla ice cream , mango cubes and tutti frutti. Serve the Mango falooda immediately.
Footnotes:
You can similarly make Strawberry Falooda by replacing Mango with strawberry in this recipe.