Mango Kalakand
#MangoRecipes #MangoKalakand
Kalakand is very famous and yummy sweet in India..On festivals or special occasions I cook it at home. This time I gave it some fusion touch and made it in mango puree.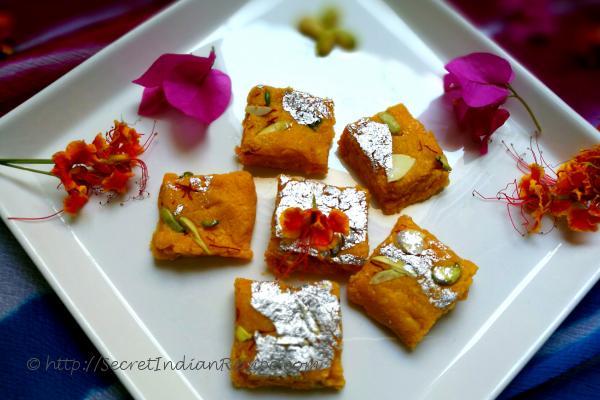 Ingredients:
1 cup Milk
3/4. Cup fresh Paneer( Cottage Cheese)
1 cup Mango puree(alphanso)
1/2 can or 200 ml Condensed milk or adjust as per Sweet news you want
1 pinch Alam powder or Lemon juice
10-12. Almonds soaked in water
10-12 Pistachios soaked in water
1 tsp Cardamom powder
10-12 Kesar soaked ( Safffron)
2 tbsp Milk
Directions:
In a pan add milk and let it boil. Add pinch of alam powder and when it starts to curdle add fresh grated paneer/chena.
Add mango puree, condensed milk and mix well.. Keep stirring..Add cardamom powder, sliced almonds, sliced pistachios and kesar and mix well..
Keep stirring on low medium flame till mixture leaves sides and become dough like consistency..If sweetness is less than add sugar or condensed milk little more ..Mix well..
When mixture starts leaving sides of pan switch off the flame..Let it cool bit..Spread out this mixture on grease plate or mould.. Garnish it with sliced almonds, pistachios and kesar and level it with hands or spoon..If you wish, garnish it with silver vark..
Let it cool ..Keep it in fridge or at room temperature to set..Cut it in your desire shape.. Serve your yummy Mango Kalakand..
Footnotes:
Sweetness can adjusted as per your taste ..Dry nuts can be added as per your choice..Alam powder id.s fitkari..