Masala Alu / Spicy Potato
Everyone likes Alu / Potato, potato chips and french fries are the favorite snacks of kids. Today I am posting this quick and easy but very yummy potato recipe. You don't need boiled potatoes to make this recipe and you can make this in hurry for kids tiffin.
It a hit in my home and my little one like this most so many times when I don't get any good idea for tiffin then I make this recipe.
You can adjust the spices according to your taste and make this yummy dish. This sabji tastes great with poori but you can also serve it with roti, fulka, paratha or eat this as it is as a snack.
Like bhindi fry and chole, masala alu is also a great side dish for guests.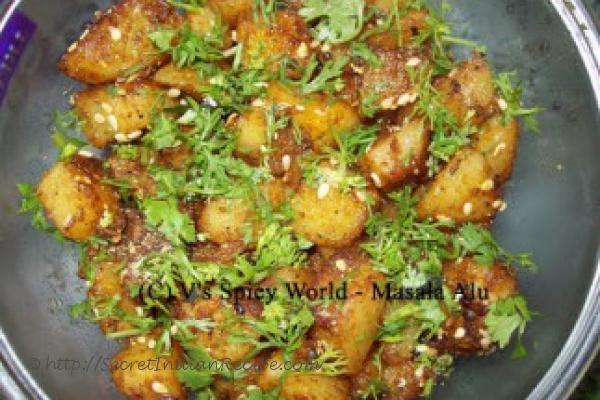 Ingredients:
3 medium potato's
½ Teaspoon Cumin Seeds/Jeera
½ Tea Spoon Mustard Seeds
1 Tea Spoon Red Chilly Powder
1 Tea Spoon Sesame Seeds
1 Tea Spoon Garam Masala
½ Tea Spoon Turmeric Powder
1 Tea Spoon Cumin/Jeera Powder
1 Tea Spoon Coriander Powder
3 Tea Spoon Oil
Salt as per taste
Pinch of Dry Mango Powder/Amchur Powder (optional)
½ Tea Spoon Chaat Masala (Optional)
Fresh green coriander leaves for garnishing
Directions:
Wash, peel and cut the potato's into cubes.
Heat oil in a nonstick tawa/pan. Add cumin seeds + mustard seeds.
When the cumin & mustard get spluttered add potato cubes.
Mix well and stir fry till golden brown. Add some water in fried potato cubes and cook for 1 min stirring continuously.
Cover all the cubes with a thali/plate and cook on low flame for 2-3 min. Stir in between.
Check the cubes bye cutting with a spoon.
If the cubes cut down easily add all the masalas except sesame seeds and chaat masala. Fry stirring continuously for a minute on medium heat.
Add some water and cook till water dissolves.
Cook till oil get separated.
Add sesame seeds. Stir fry for a minute. Taste the masala alu, if needed adjust the spices.
Masala Alu is ready. Sprinkle chaat masala. Garnish with fresh coriander leaves and serve hot with roti or enjoy as it is.
Footnotes:
For more interesting recipes and articles please visit my blog www.vslittleworld.com