Matar Ke Kofte (green Pea Balls Curry)
Kofta is basically a preparation wherein different vegetables are mashed into balls and then dipped into some gravy. There are varieties of koftas available depending upon the main ingredient, be it jackfruit or paneer or potatoes. In this case we are using green peas, which is available throughout the year now.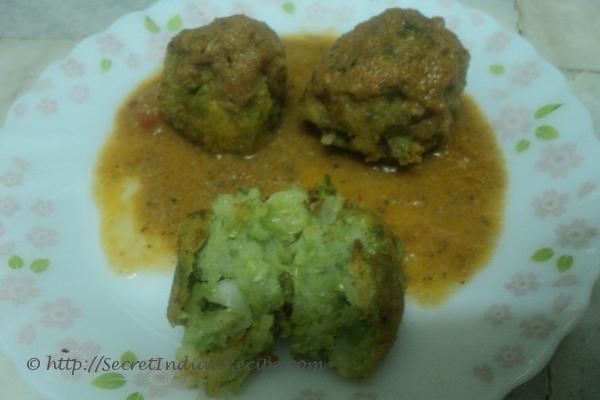 Ingredients:
Matar green peas) 100 grams (3.5 ounce)
Yoghurt 4 tablespoon
Tomato 1 (finely chopped)
Onion 1 onion (finely chopped)
Ginger paste 1 tablespoon
Salt 1 tablespoon
Cumin powder 1 tablespoon
Red chilli powder ½ tablespoon
Green chili 1 piece(finely chopped)
Garam masala ½ tablespoon
Dhania (coriander powder) ½ tablespoon
Loaf 2 pieces
Mashed Paneer (cottage chese) 25 grams (1 ounce)
Refined oil 4 tablespoon
Directions:
Boil the green peas and mash it with hands.
Add mashed paneer, mashed, loaf, ½ tablespoon cumin powder, green chilli, salt, 1 tablespoon coriander leaves and mix all together.
Make small pea balls and roll it over the besan. Keep it aside.
In a pan or karahi pour the refined oil and shallow fry the pea balls.
In the remaining oil add the onions and fry till it turns light brown.
Add the tomato, ginger paste, cumin powder, coriander powder and Red chilli powder. Fry till the masala leaves the sides.
Add garam masala, yoghurt, salt and 1 cup of water and let the gravy cook for 5 mintues.
Add the pea balls and remove from the fire. Garnish with coriander leaves and serve with chappati or pulao.