Multi-grain Muruku/chakali
This snacks is one of my favorite..I often prepare this in festival time. Mostly muruku/chakali are prepare from rice flour. My recipe is healthy, tasty & crispy.
Here I used ready made multi grain powder/health mix powder (which contains ragi, barley, bajra, green gram/moong dal, broken wheat, oats, brown rice, roasted gram, almonds, cashews, peanuts, green cardamom, pista) available in all department stores or you can prepare it at home by combining different grains.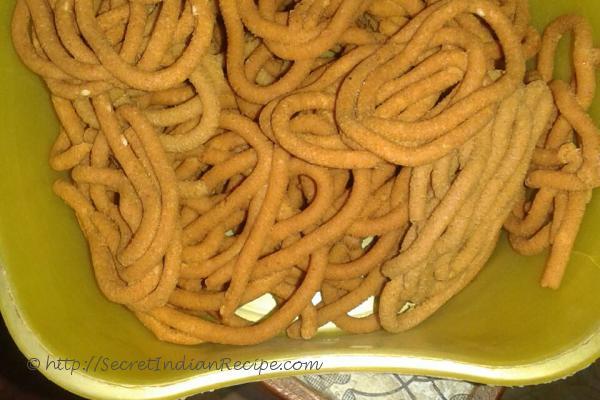 Ingredients:
Multi grain/ health mix powder- 2 cups
Rice flour-1 cup
Roasted Gram flour-1/2 cup
Red chilly powder-1 1/2 tsp
Cumin seeds-1 tsp
Seasum seeds-1 tsp
Salt-to taste
Oil-1 tbsp + more for deep frying
Directions:
In a mixing bowl add multi grain flour, rice flour, roasted gram flour, red chilly powder, cumin seeds, seasum seeds, 1 tbsp oil and add salt as per the taste mix it well.
Then add water in the mixture little by little to make a soft dough like chapathi dough.
Place a lump of dough in Muruku Maker. Pipe out the patterns, forming circles, on a greased plate.
Heat oil over medium flame. Carefully fry murukus in the oil, without touching each other. Fry till they turn light golden brown in color.
Place the murukus on a kitchen paper towel, to drain the surplus oil. Allow them to cool. Murukku is ready to eat. Store in a dry container.
Footnotes:
This will stay 10 to 15 days if store it in a air tight container.