Nellika Pulli Achar ( Otaheite Gooseberry Pickle)
This fruit is quite confusing for first timers so it requires a bit of introduction. It looks like gooseberries but is soft like a star fruit and is very tangy. It's widely used for pickling around Asia and because of its resemblance to gooseberry it's called Nellika pulli in Kerala. In our family we have it raw with some rock salt but to preserve it for the rest of the year we pickle it mostly.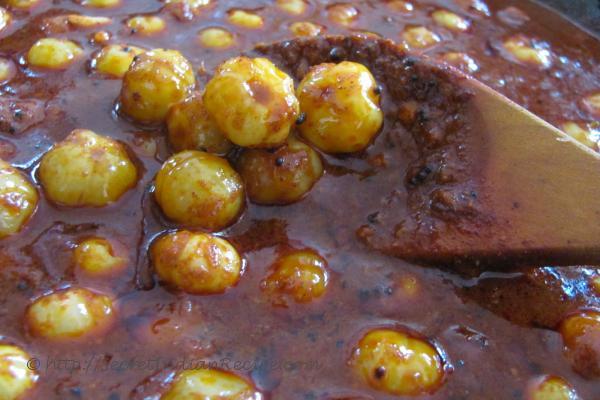 Ingredients:
Nellika pulli- 500 gm
Gingely oil- 1/4 litre
Ginger-garlic paste- 4 tbsp
Turmeric powder- 1 tsp
Chili powder- 2 tbsp
Kashmiri Chili powder- 2 tbsp
Fenugreek powder- 1 tsp
Asafoetida- 1 tsp
Salt- 3 tsp
Mustard seeds- 1 tsp
Water- 1 cup
Directions:
Boil the salt and water and set aside.
Heat a little oil in a pan. Add the mustard seeds and once it splutters add the spice powders. Do this at a low flame else the powders will get burnt.
Now add the nellika pulli and saute for a minute. Add the boiled salt water and bring the pickle to boil before switching off the flame.
Store the pickle in airtight jars. See that the oil stands above the pickle else heat some oil and cool it down. Pour this oil over the pickle. Do this only if there is no oil visible over the pickles after bottling.
Footnotes:
You can fry the ginger and garlic strips and add them after the nelikka pulli is added.