Nenua Aur Pyaz Ki Sabji (spongegourd And Onion Curry)
Nenue ki sabji is a common side dish eaten with rice or roti in eastern India particulary Uttarpradesh and Bihar. Nenua is known as Spongeguard in English and in India it is either known as Nenua or Tori. Nenua is supposed to have cooling properties and hence it is mainly cooked in summers. It is a low fat high fibre recipe suitable for everybody.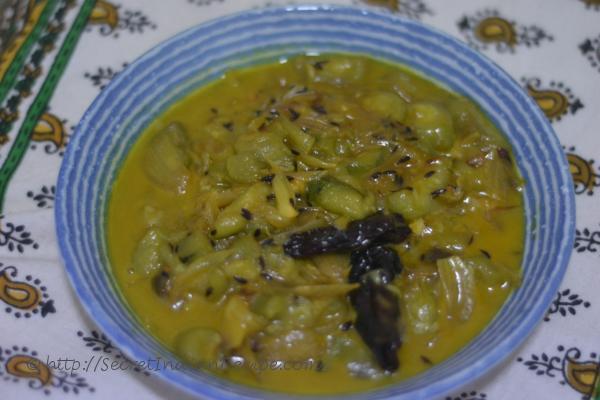 Ingredients:
Nenua 500 grams (18 ounce)
Onion 200 grams (7ounce)
Green Chilli 2 pieces
Mustard Oil 1 tablespoon
Salt 1 tablespoon
Directions:
First peel and wash the Nenua and then silce it. Similarly peel and cut the onion in long slices.
In a karahi or Pan put mustard oil followed bu green chillies and onion. Sauta the onion for 2 mintues.
Then add the sliced Nenua and salt and let it cook on low flame for 10 mintues. No need to add any water since the nenua will release its water in the process.
Once Nenua become tender put the karahi on high flame and fry till the water released from nenue evaporates. Nenua aur Pyaz ki sabji is ready. Enjoy it with Dal and rice or chappati.