Notun Aloor Dum ( Spicy Baby Potato In Bengali Style)
luchi and notun aloor dum have become a fortnightly breakfast at home. And its also a signature Bengali dish. Without luchi and aloor dum holidays are meaning less for every bengalis.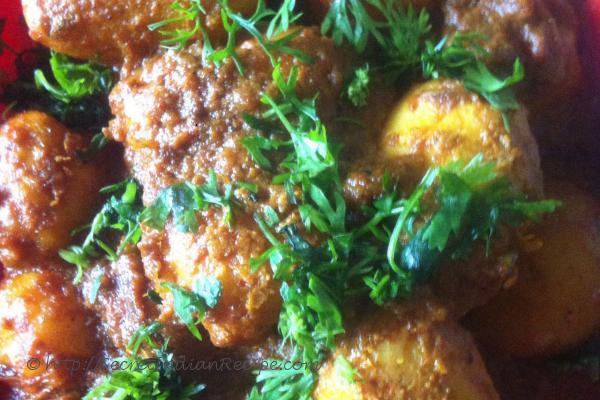 Ingredients:
Boiled baby potato - 500 gm
Chopped onion - 1 cup
tomato - small one
Cursed ginger- 1/2 spoon
Turmeric powder - 2 spoon
Chilli powder- 1 spoon
Kashmiri chilli powder - 1 spoon
Dahi- 50 gm
Salt
Mustered oil- 2 spoon
Suger - 1/2 spoon
Chopped dhaniya for garnishing
Bay leaf- 1 pic
Rosted methi seeds powder - 1 pinch
Directions:
Heat the mustered oil in a kadai & put a bay leaf in it.
Add the onion, ginger , tomato and salt. stir well and cook for 5 mins in medium flame.
Now add turmeric, chilli, kashmiri chilli powder, sugar and stir well.
When the gravy become thick and change in brown colour Then mix the dahi and potatoes. Let it cook for 5 mins.
Put a cup of water and cook for another 10 mins.
Turn off the gas and sprinkl a pinch of roasted methi seeds powder and chopped dhaniya.
Serve with puri or chapati.