Onion Dosa (south Indian Savoury Pancakes) - Dosa Batter Recipe Included
Dosa is one of the easiest snack to prepare when you have unexpected guests. Usually dosa batter takes time, but here is a quick recipe which can also be prepared without having a pre-prepared batter at home.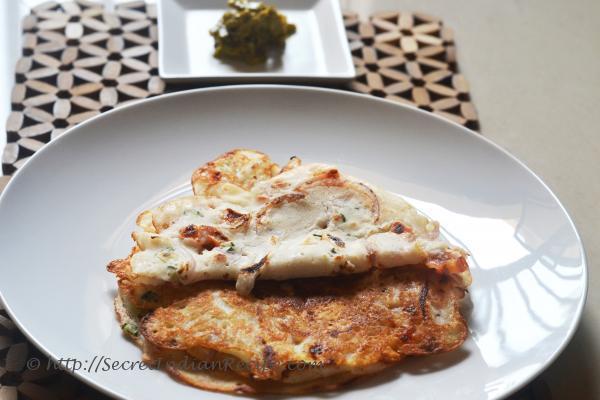 Ingredients:
1 Cup Plain flour (Maida)
1 Cup Rice flour
1/2 Cup Besan
1/2 Cup Wheat Atta
3/4 Cup Curd (Sour curd)
1 tsp Sugar
Pinch of Soda Bicarbonate
2 Large onions chopped or julienned
4 to 5 Chopped green chilies
Oil for cooking
Directions:
Mix all flours, add in the curd and salt and whisk to a semi-thin consistency. Set aside for 20 mins to half an hour
Now add in the soda bicarb, onions and green chilies. (As personal preference: You may also add chopped tomato- without the pulp)I have added a small tomato chopped
Give the batter a quick mix. In a pan heat 2 tbsp oil. (You may use less oil if using a non stick pan)
When hot, pour in a ladle full of batter and swirl the pan to spread the dosas around. If your batter is thicker, add water to make it thinner. Drizzle oil from corners of the dosa
Cook for 1 -2 minutes on one side and flip. Cook a few minutes on the other side. Remove from heat and serve with chutney, pickle or tomato sauce. Be careful while removing the dosa from pan, make sure it doesn't tear.
Footnotes:
Authentic Dosa Batter recipe: INGREDIENTS Urad Dal without Skin(Whole)- 2 cups Rice – 8 cups Salt- to taste (about 2 and a half Teaspoon) Water as required
RECIPE Soak rice and dal separately for 6 hours. Grind them to a fine smooth batter by adding little water at a time as required. Do not make the batter too thin. Add salt and leave for fermentation for 12 hours or overnight. You may store this batter covered in a refrigerator for a few days and use as required