Palak Aur Baigan Ki Sabzi(spinach And Brinjal Curry)
It would be a great injustice to this website, if I do not mention Palak aur Baigan ki sabzi. It is the most common recipe in Uttarpradesh and Bihar in Winter Season. It is ritually made on a day before any marriage ceremony and also in any religious celebrations. I still remember how my Grand mother used to make all the girls in the family sit in the varandah and separate the spinach leaves from the roots. The elders used to cut Brinjals and Potatoes and grandma used to sing all the marriage songs. As kid, I used to resent as it meant less playing for us but today when I make this sabzi, I feel nostalgic. Apart from the ritualistic value this sabzi score high in Iron, calcium and fibre content so having this sabzi on regular basis is good for health.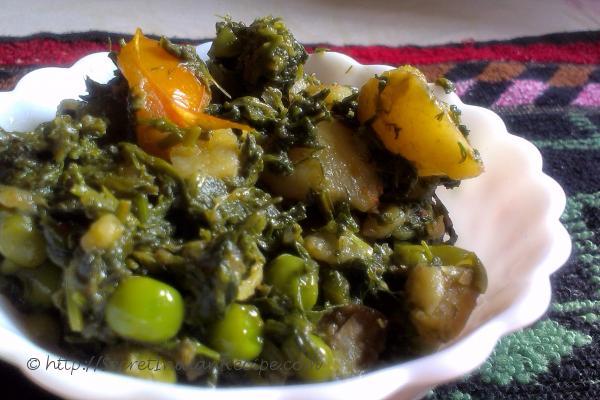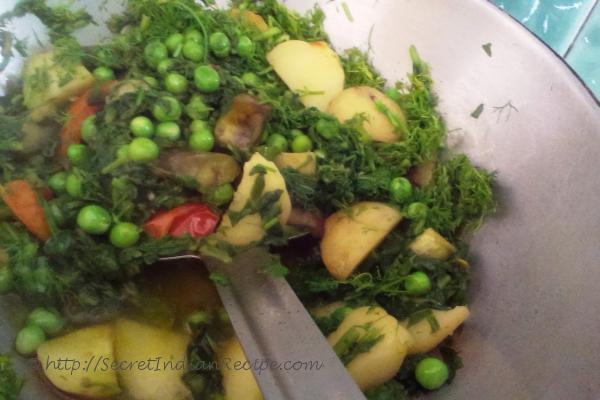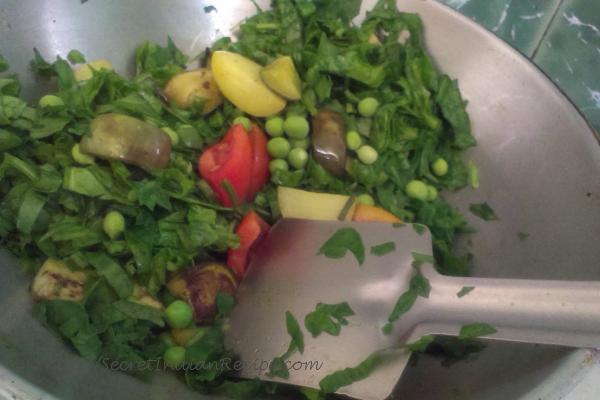 Ingredients:
Palak (Spinach) 200 grams(7 ounce)
Baigan (Brinjal) 150 grams (5.5 ounce)
Potato 3 pieces (optional, quatered)
Green Peas 4 tablespoon (optional)
Garlic 4 cloves (optional. finely chopped)
Green chillies 2 pieces( finely chopped)
Asafoetida ½ tablespoon
Kallonji and Methi Seeds Nigella and Fenugreek seeds) 1/4 tablespoon.
Coriander Leaves 2 tablespoon (finely chopped)
Soya Saag (Fresh Dill) 2 tablespoon (finely Chopped)
Mustard Oil 2 tablespoon
Salt 1 tablespoon
Directions:
Wash the palak for 3-4 times in fresh water and chop it finely.
In a Pan or Karahi pour the mustard oil and once it is heated put Galic, Green Chillies, Kallonji, Methi and Asafoetida. Fry for 1 mintue as the flavor start coming out.
Add the potatoes. Fry potatoes till they turn light brown.
Then add baigan and fry for another 2 mintues.
Afterwards add the palak, coriander leaves, soya saag and cover it with a lid and cook on low flame for 15 mintues . There is no need to add water since Palak is a watercontained food so it releases water when cooked. stir in between.
Once the potatoes are done, add peas. Cook for another 5 mintues. Check if the water released by the palak has evaporated or not. If not then increase the flame and stir the sabzi till it releases oil from sides. Palak aur baigan ki sabzi is ready. Serve it with Roti, Rice or ' puri'.