Palak Neer Dosa
Neer Dosa is a thin crepe made of grind rice and served with chutney and curry. It is a popular breakfast in Mangalore. I decided to blend this dosa batter with the spinach puree and hence I came up with the Palak Neer dosa. Spinach is rich in iron and minerals and a very versatile vegetable.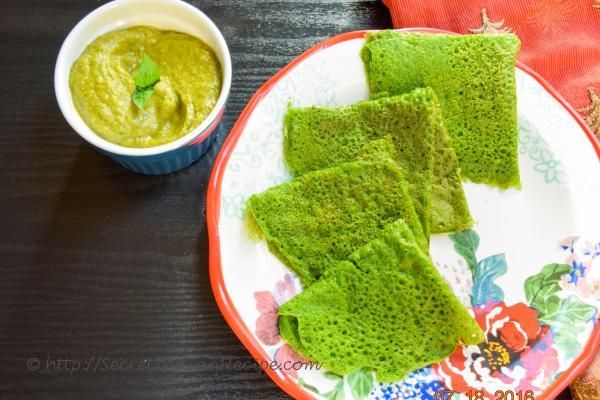 Ingredients:
2 cups loosely packed Spinach leaves
1/2 cup Rice soaked overnight or atleast for 4 hours
Salt as per taste
1/2 knob Ginger
1 Green Chilli
1/2 tbsp Grated coconut
Directions:
Wash and clean the spinach leaves. Blanch it in a pot of boiling water and then put it in an ice bath. This is the shocking process that stops the leaves from being cooked further. Squeeze out the excess water and add the spinach leaves in a mixer or food processor.
Drain the soaked rice and add it into the mixer with 1.5 cups of water( for neer dosa, the approximate ratio of rice to water is 1:3). 3.Add grated coconut, ginger, and salt. Process the mixer for 3-5 minutes until you get a smooth mixture. Take it out in a wide container.
Stir the mixture with a ladle. The coating on the back of the ladle should be thin and not thick. If there is a thick deposition of rice flour on the back of ladle, you need to add some more water.
Heat a griddle or non stick pan on medium high heat. When the pan is hot, drizzle some oil into the pan. Spread it using a kitchen paper towel or half cut potato or onion.
When the pan is hot, drop a ladle or more of the batter onto the pan and move the pan in circular way so as to spread the batter evenly. As you pour the batter, you will see holes appearing on the dosa. Remember, the way of spreading neer dosa and masala dosa is different. Unlike masala dosa, we drop the neer dosa and twirl the pan clockwise to spread it like a thin crepe and don't use a ladle to spread it.
Cover the pan and cook for 2-3 minutes on medium heat. After 2-3 minutes, remove the lid. When the sides of the dosa begin to rise easily with the help of flat spatula, fold the neer dosa into half and then fold this half into another half like a handkerchief, in the shape of a triangle. Take it out on a plate and let it cool.
Serve the palak neer dosa warm immediately with spicy chutney and gravy.