Palakkadan Idli Podi (chutney Powder For Idlis The Palakkad Style)
This is a recipe that I sourced from my hostel mate from Palakkad in my IIT days. She gave me a rough idea of the ingredients and I tried this recipe twice to equal the recipe she shared. I was no fan of chutney powders before but now that I make my own I force feed my family with this. Every time I make this I have a friend who wants to learn this recipe and we end up sharing the ingredients and final product. I also love having this chutney powder with some rice and ghee. I guess this would be the first chutney my baby girl will soon have and at the pace she seems to be moving like sipping tea at 8 months and polishing off half a ragi idli, chutney powder is inching towards her plate. I have named this chutney powder Palakkadan as a dedication to my friend's mom whose recipe this is.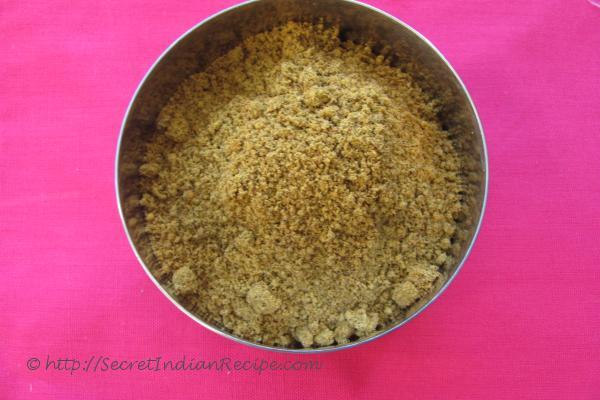 Ingredients:
Dry chilies- 10
Curry leaves- 3 sprigs
Split bengal gram dal- 1 cup
Split pigeon dal- 1 cup
Split black gram- 1 cup
Fenugreek seeds- 1 tsp
White sesame seeds- 2 tsp
Asafoetida- 1 tsp
Salt to taste
Pepper corns- 15
Directions:
Dry roast all the ingredients together in a cast iron or aluminium wok till the dals turn red.
Do this over a medium flame so that you do not burn the curry leaves and chilies.
Once the ingredients cool down grind them in a grinder till they become finely powdered.
Check the salt level and add more if required. Store the chutney powder in an airtight container.
This chutney powder is had by wetting it with 1 tsp oil, ghee or water. It can be had with rice, idli or dosa.