Paruppu Keerai Kuzhambu - Dal Greens Curry
This curry can be made using any variety of greens like spinach, drumstick leaves, fenugreek leaves or just coriander leaves. It is highly nutritious and packed with many vitamins and minerals. It's a healthy dish for elderly and children.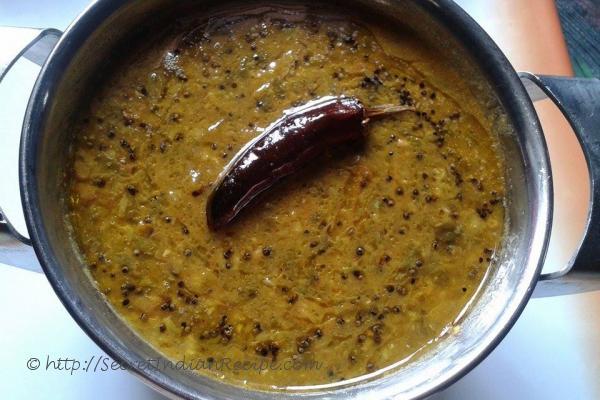 Ingredients:
A bunch of Greens of your choice - Palak, Spinach, or lettuce leaves or Fenugreek leaves fresh
Toor Dal (Yellow split peas) - 250gms
Split Moong Dal (Green Gram) - 50 gms
Garlic pods - 5
Onion - 1 chopped
Vegetable oil - 2 tbsp.
Ghee - 1 tbsp.
Mustard seeds- half tsp.
Cumin seeds - half tsp.
Tomatoes - 2
Red chilies - 2
Red chili powder - 1 tbsp.
Turmeric powder - 1/4 tsp.
Salt - as per taste
Directions:
Soak Toor dal and split Moong Dal for 20 minutes and boil it in pressure cooker once the lentils are tender and cooked well. Approximate time to pressure cook the Dal is 3 to 4 whistles.
Add the clean washed leafy greens of your choice to the cooked dal along with garlic pods, tomatoes and leave it on medium flame for about 10 minutes.
Check if the greens are cooked well, mash the mixture with spatula or you may even use a mixer to grind the mixture.
The mixture doesn't have to be a fine paste.
Now place a curry pan on low flame for seasoning and add 2 tbsp. of vegetable oil and mustard seeds.
And add cumin seeds and red chilies, add the mashed lentils mixture to the seasoning and sprinkle some salt, a tbsp. of red chili powder and 1/4 tsp. of turmeric powder
And leave the curry on medium flame for 2-3 minutes and then remove it from flame.
This curry goes well with rice, Indian flat bread , bread and dosa
You may add a spoon full of ghee on top of the curry.