Patichya Kandyachi Peeth Perun Bhaji (spring Onions Cooked With Chickpea Flour)
This Spring Onion Recipe is the easiest to make. The name can be a bit of a tongue twister for Non-Maharastrians. Its made with just 2 main ingredients and few regular ingredients from your daily pantry. No pre- prep required at all.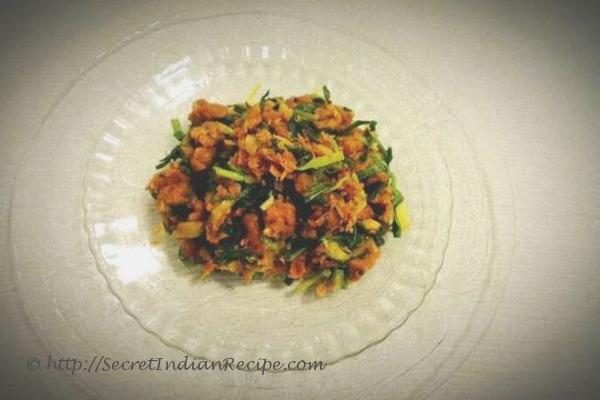 Ingredients:
2 Cups chopped Spring Onions (Greens and onions seperated)
3 Tbsp Roasted Chickpea flour (Also depends on how moist or how dry you like the sabji to be)
(See footnotes for roasting Besan <chickpea flour>)
1 tbsp Oil
1 Tsp Rai (mustard seeds)
Pinch of hing (aesofodita)
1/s Tsp Haldi (Turmeric)
1 Tsp Lal Tikhat (Red chili Powder)
Salt to taste
A little less than half tsp sugar
Directions:
In a Kadhai or pan, take oil, when hot add in Rai when the seeds start to splutter add hing, haldi, lal tikhat
Give it a quick mix and stir in the onions only (not greens)saute till onions are well cooked, add in salt, sugar and then the greens
Saute well, sprinkle a little water, about 1 Tbsp, stir again. Check for seasoning and adjust according to your taste
Once you make sure the veggies have cooked through stir in the besan (Chick pea flour) slowly 1 Tsp at a time. Making sure you stop adding it when it reaches the consistency you like.
If the dish becomes too dry again sprinkle a little water. On low heat cover and cook for 5 minutes.(since the chick pea flour is roasted it will not take time to cook)
Turn off the heat and let it sit with the lid on for 5 minutes more.
Serve hot with Rotis or Dal Rice.
Footnotes:
Usually if I am serving this dish with Dal and Rice keep I keep it dry. When I serve it with roti I prefer keeping it a little moist.
For Roasting Chick Pea Flour - Heat a Non stick pan or Kadhai dry stir fry the flour for about 2-3 minutes continuously stirring it to avoid burning. Keep heat on low flame.