Pesarapappu Kura / Yellow Moong Dal Dry Curry
Pesarapappu (Telugu) kura is an Andhra Style side dish. A kids - friendly dry curry which tastes yummy when served hot with Chapati and Rice. Yellow Moong dal is easily digestible.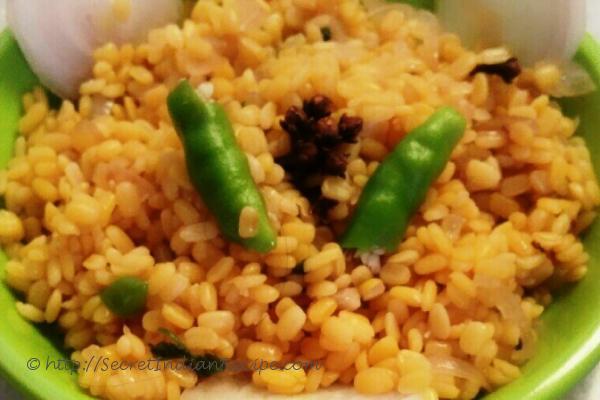 Ingredients:
Soaked Moong dal( Yellow Lentil) - 1 cup,
Pure Ghee - 2 tablespoon,
Cloves - 3,
Chopped Green chillies - 2 ,
Cumin seeds - 1/4 teaspoon,
Thin sliced Onions - 2 tablespoon,
Turmeric powder - A pinch,
Water - 2 cups,
Salt - To taste.
Directions:
Take a cup of washed moong dal , and soak it for 1 hour.
Now parboil the soaked moongdal with 2 cups of water, turmeric powder and salt. Once parboiled , mix it well . And remove from the heat.
Then take a saucepan, add ghee, thin sliced onions, cloves, cumin seeds, chopped green chillies. Add salt if required.
Cover the lid and keep it on low flame for 5 minutes. Once cooked, transfer it to a bowl.
Serve hot with Chapati or Rice.
Footnotes:
Note that the color of the sliced onions should not change to brown or dark brown.
This curry tastes good when served hot.