Poda Pitha (odisha Baked Pancake)
Poda pitha is an authentic odia cuisine prepared specifically during the swing festival in odisha.Traditionally it used to be baked whole night in a deep bottom clay pot in a chulha and served next morning. Poda pitha is literally translated to burnt cake as the top of the cake has a little burnt texture which is because it is baked for whole night but at the same time it is this burnt top that imparts the distinct flavour to this cake and makes it different from regular cakes. The use of different spices gives it a heavenly aroma and taste. So do give it a try. #diwalicontestrecipe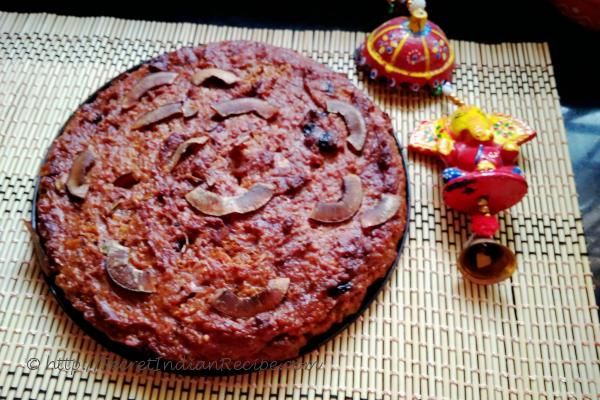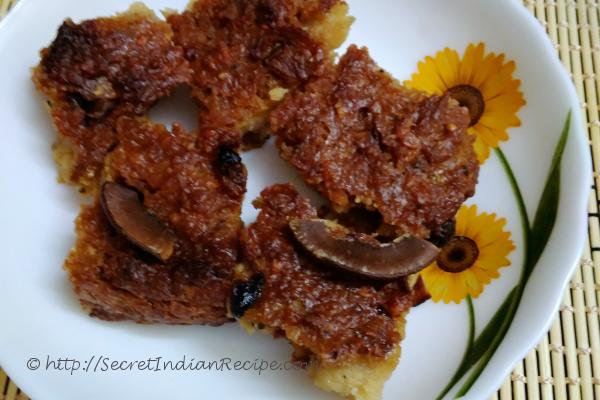 Ingredients:
Rice flour 2 cups
Water 2 cups
Milk 2 cups
Jaggery powder 1 cup
Cashew and raisins 1/2 cup
Grated Coconut 1 /2 cup
Sliced Coconut 1 /2 cup
Black pepper powder 1/2 tablespoon
Cardamom powder 1 teaspoon
Bay leaf 2
Ghee 2 tablespoon
Nutmeg powder a pinch
Salt a pinch
Directions:
In a deep bottom non stick pan take water and milk. Add jaggery powder to it and let it melt.
In a separate pan take ghee and fry cashew, raisin and the sliced coconut one by one and keep aside.
When the jaggery powder is completely dissolved, add bay leaves, black pepper powder, cardamom powder, nutmeg powder, salt and grated coconut and let it come to boil.
Now add the rice flour in 3 to 4 batches with constantly stirring so that no lumps are there. Mix it thoroughly.
Now add the fried coconut, cashew and raisins and keep cooking till the mixture thickens into a dough form.
Switch off the flame and let the mixture cool down a little.
In the mean time preheat the oven to 1 70 degree and grease a baking tray with the remaining ghee.
When the dough is still warm knead it for a couple of minutes and transfer to the baking pan. Decorate the top with some sliced coconuts and bake for 60 minutes.
Check by inserting a tooth pick. If it comes out clean then the cake is ready.
Let the cake cool down. Slice and serve.
Footnotes:
Do no compromise on the quantity of black pepper powder as it imparts the flavour to the cake.