Poori Aur Panch Phoran Aloo Bhaji ( Fried Fuffed Bread With Spiced Potatoes)
'Panch' in bengali means five and 'Phoran' means spice. This is a unique mix of dry masalas used extensively in dishes from the eastern parts of India. Panchphoran Aloo is a classic recipe which is easy to prepare. It is served hot with Puris, again an easy to prepare Indian fried bread.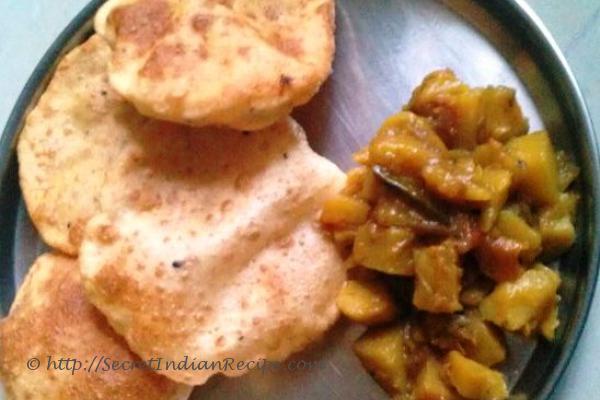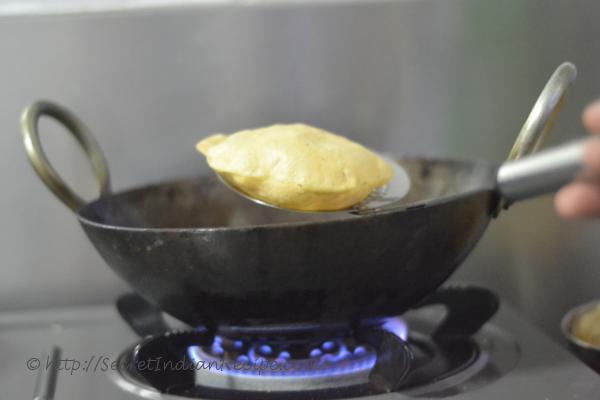 Ingredients:
For Bhaji
Potatoes- 3 large peeled and cubed
Onions - 2 medum sized finely chopped
Tomatoes- 1 large chopped
Panch Phoran - 1 tsp
Green chilies - 2 small finely chopped
Ginger garlic paste - 1 tsp
Chilly powder- 1 tsp
Turmeric powder- 1 tsp
Hing- a pinch
Sugar - 1 tsp
Salt- 1 1/2 tsp
Garam masala - 1 tsp
Oil for cooking
Water- 1 cup
For Pooris
Wheat flour - 1cup
Maids- 1cup
Oil - 1 tsp
Salt - 1/2 tsp
Water - to knead dough
Oil for frying
Kala Jeera - 1/2 tsp
Ajwain - 1/2 tsp
Directions:
For Pooris: Mix both flours, Salt, Jeera, Ajwain, oil and knead into a soft dough. Keep aside and let it rest for 15 mins. Make small round balls from the dough and roll using a rolling pin into flat round pooris. Pooris are usually smaller than usual roti size.
In a kadhai heat oil for deep frying. Once a few flat rounds are done, immerse them in hot oil for deep frying. You will see in a few seconds the Pooris fluff up into round golden puffs.
For Bhaji: Heat oil in a kadhai, add panch phoran and hing. When they crack add chilies, onions and ginger garlic paste
Once light golden add turmeric, chilli powder mix well. Add Tomatoes and cook till oil separates from the masala
Add potato pieces and mix well. Add water, salt, sugar and cook for 5 to 10 mins. When potatoes are tender add garam masala, cook for few minutes more and remove from heat
Garnish with Coriander and serve hot with pooris
Footnotes:
Use Hot water instead of cold for kneading the dough. This will make pooris soft You may use only wheat flour for a healthier option