Pyaz Ke Pakore (onion Pakore)
Pyaz ke pakore aur chai....mmmmm. This is the usual demand of my family on Sunday evening. It is a very common Indian snack and I have been eating this since childhood but I have always wondered how the snack shops make it so crunchy? I observed that they actually fry the Pakoras twice. The first time they fry it on low flame to just ensure that it is cooked and then they take them out. As they cool, they put them again in oil and fry on medium flame to get crunchiness. As I understood, the process, I started frying my Pakoras twice but later I realized that it is not a healthy practice and I am consuming more trans fat. Then I invented a new and more healthier way to make my pakoras crunchy. I used to use besan (gramflour) which I replaced with channa dal(Split Bengal gram) and my efforts paid of. Try making Onion Pakoras my way on a rainy or winter evening and serve it with tea.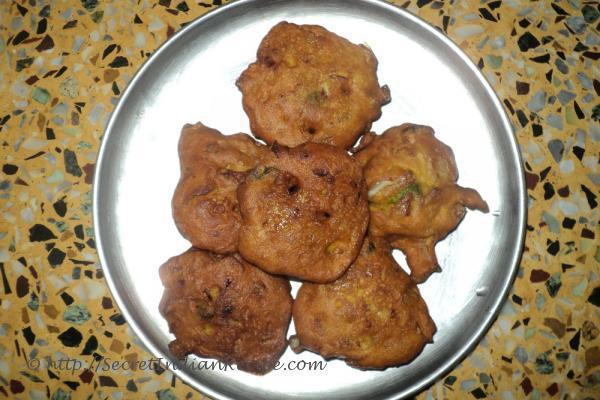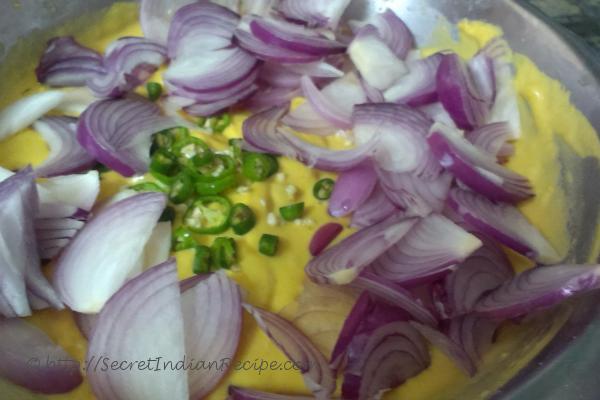 Ingredients:
Channa dal (Bengal gram) 200 grams (7 ounce soaked for at least 6 hours)
Onion 3 onion (finely sliced)
Green chillies 3-4 pieces (finely sliced)
Turmeric powder ½ tablespoon
Cumin powder ½ tablespoon
Coriander leaves 2 tablespoon (optional)
Mustard oil 100 mililitre
Salt 1 tablespoon
Directions:
Wash and finely grind the channa dal . Alternatively we can use readymade besan (gramflour) if time is limited.
Take the grounded channa dal in a bowl, add onions, green chillies, salt, turmeric, cumin powder and green coriander and whisk all together
Put a pan or karahi over the gas stove and put the mustard oil.
Once oil is heated take small portions of the batter by hand and put it in the hot oil. Deep fry the pakoras. Follow the process till the batter finishes. Serve hot with dhaniya ki chutney and chai.