Ripe Mango Malpua
Ripe mango Malpua, is delicious sweet dish. It is a flavourful change in traditional recipe. Health conscious people can also try it as it has more fibre and goodness of mango, It is shallow fried on non stick and instead of sugar syrup honey is used. It is stuffed with fresh mango pieces , desiccated coconut and sprinkled with cardamom powder and nutmeg powder. So enjoy this summer with this dish.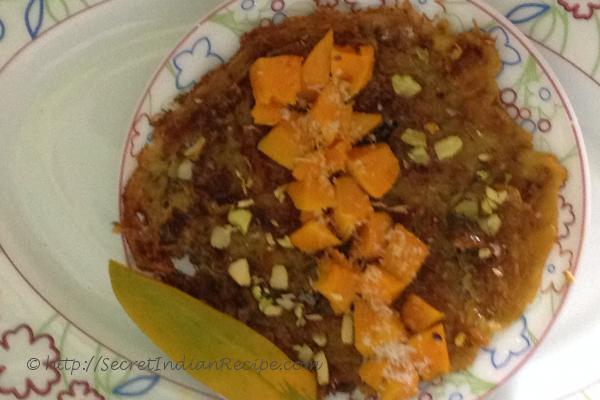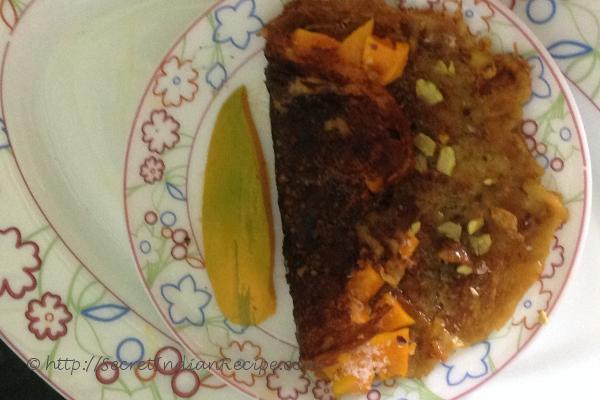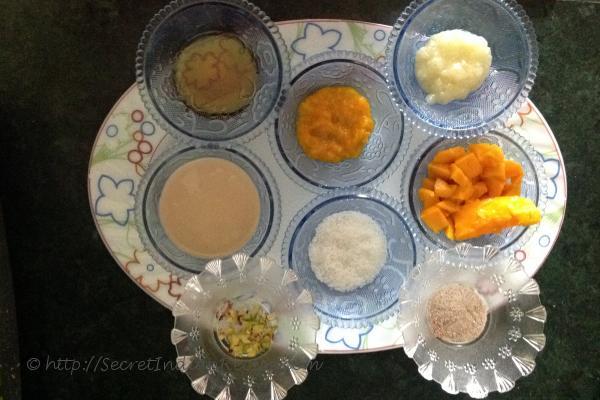 Ingredients:
1/2 a bowl of Whole Wheat Flour
1/4 tsp Curd
1tsp Mango pulp
1 tbs Water
1 tbs cut Mango pieces
1tbs Honey
1 tbs Desiccated Coconut
4-5 sliced Pista
Directions:
Mix wheat flour, curd and water together. Keep batter for fermentation overnight.
Add mango pulp and 1tsp honey in the batter. Heat a non stick pan, apply ghee.
Spread free flowing batter on a pan in circular motion cook it for 1-2min. Then turn the side and cook it for 1-2 min till it becomes brown on medium flame by applying ghee.
Take it in plate apply 2-3tsp of honey. Sprinkle cardamom and nutmeg powder. Put 1tbs of small cut mango pieces in middle of Malpua. Garnish with pista.
Footnotes:
Use non stick pan which we use for dosa. Handle it carefully to remove whole Malpua in circular shape.