Saag Chingri (prawns Cooked With Red Spinach)
#RegionalUnknownRecipe Contest
Awesome!Awesome!Awesome!....I can bet on this Bengali delicacy. People who love to eat Non – vegetarian food and people who love to explore food, will swear by this simple but mouthwatering recipe. People in Bengal love to cook fish and prawns along with different vegetables. The most common being ' Chingri maach diye pui saag' wherein prawns are cooked with Pohi greens, Pumpkin and Potatoes. Here in this recipe prawns are cooked along with red spinach and spices.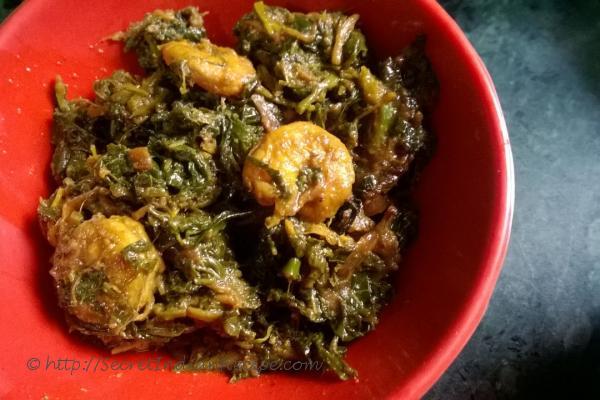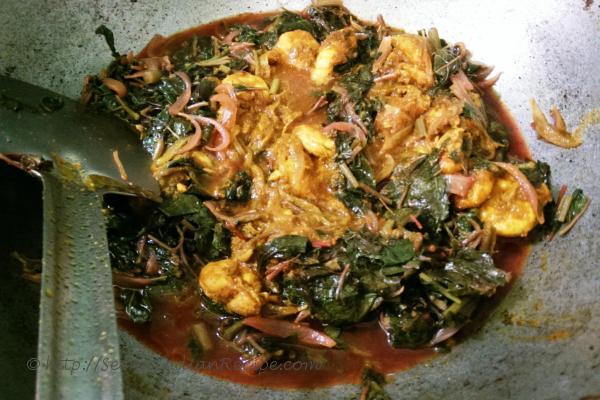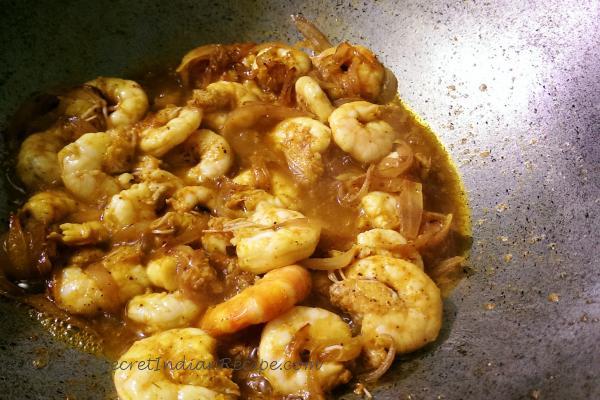 Ingredients:
Chingri maach (Prawns) – 300 grams
Laal saag (Red Spinach) – 2 bunch
Onions – 4 medium, peeled and sliced thinly.
Ginger – 1 and ½ inch piece
Garlic – 10 pods
Cumin seeds – 1 and ½ tablespoons
Black Pepper – 1 teaspoon
Green chilies – 5-6
Turmeric powder – ½ teaspoons
Cardamom – 3
Clove – 3
Cinnamon stick – ½ inch piece
Mace – 2 black pepper size piece
Salt – to taste
Mustard oil – 10 tablespoons ( any other oil if you do not get it)
Directions:
Wash the red spinach thoroughly in water preferably 3-4 times and then chop in medium size pieces.
Wash and devein the prawns and marinate with a pinch of salt and turmeric powder.
Chop the onions finely and grind ginger, garlic, cumin, black pepper, cardamom, cloves, cinnamon and mace with little water into a smooth masala paste.
After the initial preparation, heat half of oil in a pan. Add half of chopped onions and fry till translucent. Now add prawns and cook till the prawns changes colour and the onions turn brown.
Add the grounded masala paste and cook till it leaves oil from sides. It may take 5-6 mintues.
Take out the prawns with masala on a plate.
Heat the remaining oil in the same pan and add the remaining onions. Fry again till it browns.
Now add the chopped red spinach and mix. Cover with a lid and cook it for 10 mintues.
After 10 mintues or when the red spinach is half cooked, add the prawns along with masala. Add salt and splited green chilies. And mix.
Cover and cook for 10-15 mintue or till the saag is cooked properly. There may be some excess water released from saag so increase the flame and cook the saag chingri till the excess water evaporates. Once it is dry, switch off the gas and serve hot with chappati.