Saijan Ki Sabzi (drumstick Curry)
Saijan ki sabzi is a northindian delight. It is quite popular in uttarpradesh and Bihar. The recipe presented here is a typical way of cooking it in the region.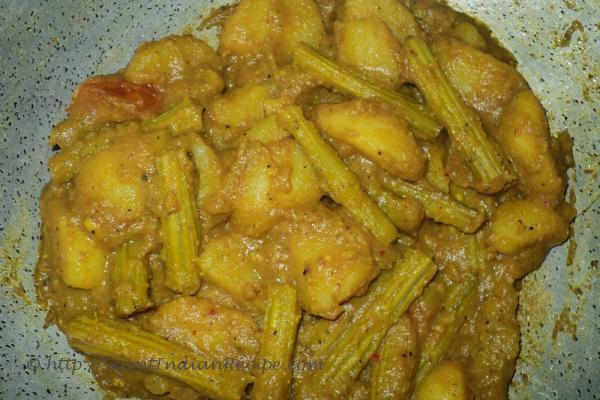 Ingredients:
Saijan (drumstick) 100 grams(3.5 ounce)
Aloo (potaoes) 4 pieces (peeled and quartered)
Onion 1 piece
Garlic 6-7 cloves
Mustard seeds ½ tablespoon
Cumin seeds ½ tablespoon
Black pepper ½ tablespoon
Salt 1 tablespoon
Tomato 1 piece (quatered)
Mustard oil 3 tablespoon
Water 1 cup
Directions:
To start first grind onion, ginger, garlic, mustard seeds, cumin seeds, black pepper all together and keep it aside.
In a pan or karahi put oil and once it is heated add the potato. Shallow fry the potatoes till they turn light brown.
Afterwards add the grounded masala paste, tomatoes and salt and fry them till the masala leaves the oil.
Add water and drumsticks and cover it with a lid. Cook on low flame for 10 mintues. Check if the potatoes have become tender and the gravy has become thick. Once done, serve hot with rice.