Sakarkand Ka Halwa (sweet Potato Dessert)
Sweet potatoes are better known as 'Sakarkand' or 'Ganji' in India. It is a high calorie vegetable and thus it is often substituted for potatoes during Fast. You can simply boil it and have or you can also try out this delicious dessert. If you do not get sweet potatoes then you can make it with potatoes as well.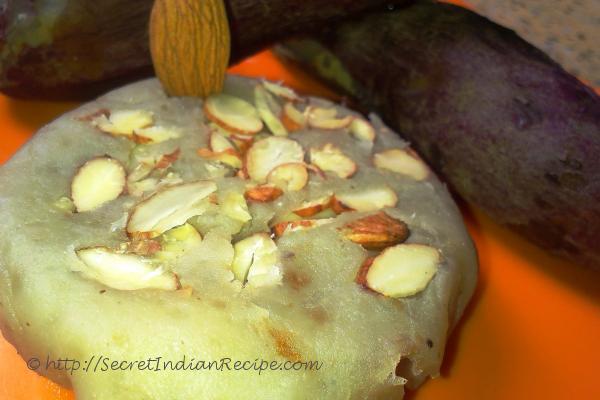 Ingredients:
Sakarkand (Sweet Potato) – 150 grams
Ghee – 4 tablespoon
Milk – 4-5 tablespoon
Milkmaid/ Khoya – 4 tablespoon
Sugar – as per taste
Cardamom Powder – ¼ teaspoon
Almonds – few (Chopped)
Directions:
Put the Sweet Potatoes in a pressure cooker with adequate water and cook upto 2 whistles or till it is boiled.
Let it cool and then peel off the skin. Mash the boiled sweet potatoes in a bowl and keep aside.
Heat ghee in a pan and pour the mashed potatoes….remember the secret of any 'Halwa' is how well you can roast the main ingredient, be it Sooji (Semolina), Besan (Gram flour) or Sweet Potatoes.
Saute the sweet potatoes on low heat for about 8-10 mintues. As it starts releasing the aroma, pour the milk, sugar, Cardamom powder and milkmaid. Mix well and continue sautéing for another 5-6 mintues.
Finally add the chopped almonds and switch of the gas. Place the halwa on a plate and serve hot.