Sardar Pav Bhaji- Mumbai Special (bread Served With Spicy Vegetables)
Mumbai ki popular Sardar Pav Bhaji, is the most famous pav bhaji joint in the city. People queue here for over an hour just to order one plate pav bhaji. I have tried to recreate that taste in my kitchen.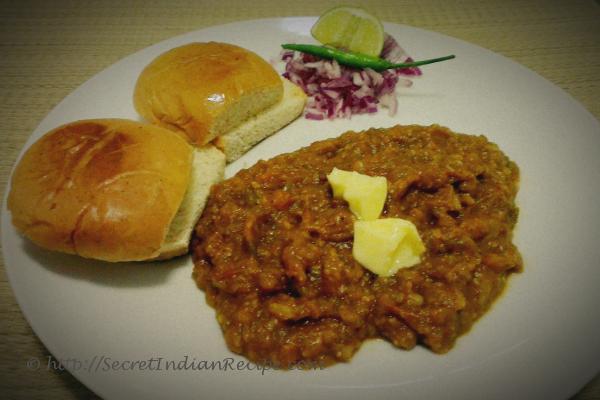 Ingredients:
1 Cup Very Finely Chopped Cauliflower or grated
4 Medium Potatoes boiled and mashed
1 Green capsicum finely chopped
2 Onions Finely Chopped
1 Carrots finely chopped
4 Tomatoes finely chopped
4 Tbsp Vegetable Oil
1 Tbsp finely chopped Ginger
2 Tbsp Finely Chopped Garlic
1 Tsp Jeera
1/2 Tsp Hing
1 Tsp Turmeric powder
2 Tsp Kadipatta
2 Tsp Saunf (not powdered)
Salt to Taste
3-4 Tbsp Everest Pav Bhaji masala
4 Tbsp Amul Butter
1 Tsp Garam Masala
1 tsp Amul butter + pinch of chili powder for pav
2 Cups hot water (1 cup = 200ml)
Directions:
Take Kadipatta, Ginger, Garlic and Saunf in a blender add a little water, just enough to blend smoothly. Blend to a smooth paste and keep aside
Heat oil; add Jeera, hing and the blended paste. Saute and add onions, tomatoes, turmeric powder and a little salt and continue to saute till the tomatoes soften completely
Add in the carrots and capsicum saute for about 5 minutes. Add cauliflower, potatoes, pav bhaji masala, salt to taste and let the vegetables cook on a low flame for 10 minutes
With a potato masher, mash all the vegetables add 2 cups hot water adjust seasoning accordingly and continue cooking for another 5 minutes.
Add garam masala mix and let it cook for another minute. Turn off the heat and add butter.
To serve, slit the pav in center half way. On a tawa or pan, heat 1 tsp Amul butter, add a pinch of chili powder and place the slit side down and toast the pav for about half a minute on both sides
Serve hot with more butter, chopped onion and lemon wedge as garnish.
Footnotes:
You may add chili powder for a spicy bhaji
For cheese Pav bhaji, grate and add Amul cheese cubes on top of the bhaji just before serving