Sevia Ka Upma (vermicelli Upma)
Sevaiya, Sevai, Semiya or just plain Vermecelli, many names but its just one ingredient. Sevia taste great in a kheer but I personally love sevia upma. Upma is a famous breakfast dish from India, this is my take on simple sevia upma.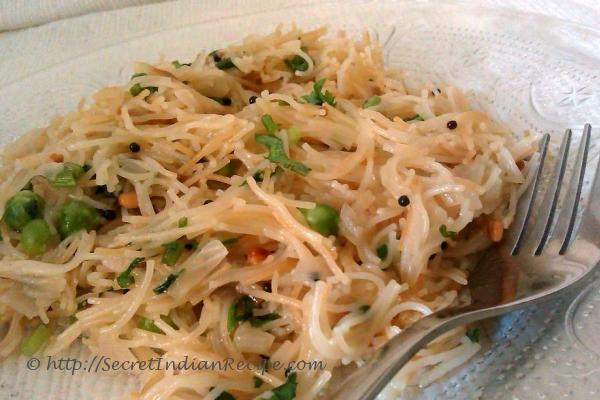 Ingredients:
2 Cups Sevia (vermicelli)
1/2 Cup green peas
2 small Onions finely chopped
1/2 Tsp Rai (mustard seeds)
1/2 Tsp Urand dal (whole) or Chana Dal
1 Tbsp finely chopped coriander
2 Tbsp Oil
Few curry leaves
1/2 tsp grated ginger
Salt to taste
3&1/2 cups hot water
1/4 tsp sugar
1 finely chopped green chili
Pinch of Hing (Asafoetida)
Directions:
Take 1 tsp oil in a pan and roast the sevia you may also dry roast it without oil. When its slightly brown evenly remove in a plate and keep aside to cool
In the same pan add remaining oil, when hot add the mustard seeds, when they start popping add chopped ginger, urad dal, hing, curry leaves, and green chilies
Let these cook for about half a minute and add in the onions and a pinch of salt. Stir & cook till the onions turn pink and translucent. Add the peas and stir for a few secs more.
Add in the sevia and stir to mix all ingredients well in the sevia.
Add hot water, salt and sugar. Cook on medium heat for about a minute when water starts evaporating cover and cook on low heat for about 3 minutes. K
eep checking the water level the upma should not dry out completely before cooking. Add more water if required. Check seasoning and adjust if required
Turn off the heat and keep the lid on for 2-3 minutes more. Garnish with coriander & serve hot with tea/ coffee
Footnotes:
You may also add carrots and dry fruits to make it richer