Spinach Mousse Surprise
Spinach is a great source of vitamins and minerals but finding a good delicious recipe was my objective. My kids do not like the taste of spinach so I thought of making a sweet dish out of spinach which shall have the benefit of both Health and Taste. This is when an idea of making this dish sprung up in my mind, which i am sharing it today.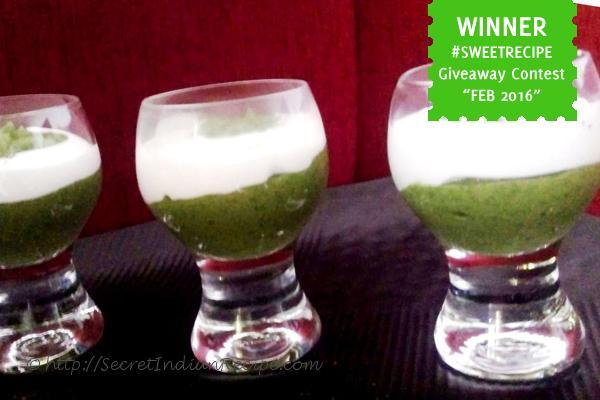 Ingredients:
Bunch of spinach - ( Blanch & make puree)
Milk Powder - 3 tbsp
Desi ghee - 1/2 tsp
Honey - 1 tbsp
Khajur gud - 1 tbsp
Dalchini powder- 1 pinch
Kaju, almond paste-2 tbsp
Green grapes- 15 nos( puree)
Directions:
Heat a kadai pour the spinach puree stirring constantly until it comes to a full boil.
Then add milk powder, ghee, honey, gud, grapes puree, Kaju almond paste and mix it properly.
After 2-3 minutes it starts to thicken, after it thickens sprinkle cinnamon powder & cool it.
Then add whipped cream into a piping bag, take a shot glass fill it half & decorate with whipped cream, serve chilled.