Sundal Kuzhambu (sundal Curry With Rice)
Sundal curry is an authentic and popular dish of the Tamilians. I tried differently without using tamarind and taste had come so well. You can try this recipe with dosa and chapati too which gives a delicious taste.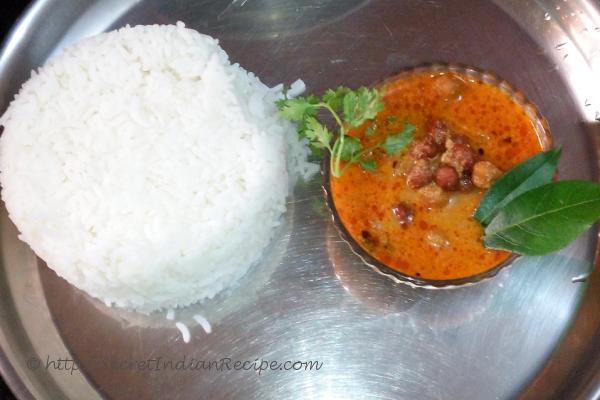 Ingredients:
Sundal - 150 gram
Potato - 1
Brinjal - 1
Big Onion - 2
Small Onion - 6
Tomato - 2
Fennel Seeds - 1/2 teaspoon
Cinnamon - 2
Cloves - 2
Cardamom - 1
Salt for taste
Pepper - 4
Coconut - 1/2 cup (Small Pieces)
Garam Masala - 1/2 teaspoon
Garlic - 6
Ginger - Small Piece
Red Chilli Powder - 1 teaspoon
Coriander Powder - 3 teaspoon
Turmeric Powder - 1/4 teaspoon
Coriander leaves - 1/4 cup
Curry leaves - 1 stick
Oil - 6 tablespoon
Directions:
Soak sundal in water for 6 hours.
In a heated pan, add 3 tbsp oil and add 1 sliced big onion and 6 small onion, garlic, ginger, fennel seeds, cinnamon, cloves and cardamom. Saute for few seconds.
Add red chilli powder, coriander powder, turmeric powder and pepper. Saute and leave for 5 minutes.
Then add tomato and coconut, saute well.
Now switch off the stove, grind that as a mixture and keep aside.
Now heat another pan, add 3 tbsp oil, add 1 sliced big onion. Wait till it get light brown colour.
Add curry leaves, coriander leaves, potato, brinjal, some salt for taste and red chilli powder. Saute for sometime.
Then add the mixture which we prepared already.
Finally add sundal and pour water as per need.
Once boiled, switch off the stove and serve well.
Footnotes:
Soak sundal in water over night so it would be fine to cook the next day.
Sundal curry goes well with rice, dosai and chapati.