Thakkali Aviyal (kerala Style Tomato Aviyal)
This is a typical Kerala style recipe served as a side dish for lunch. This is my mom's special recipe which in fact is handed down to her from my grandmother. I used to cook this for my colleagues and they loved it just like I do. Now, my husband is also a fan of this dish. It tastes best when served with Kerala style rice. You can also try it with roti.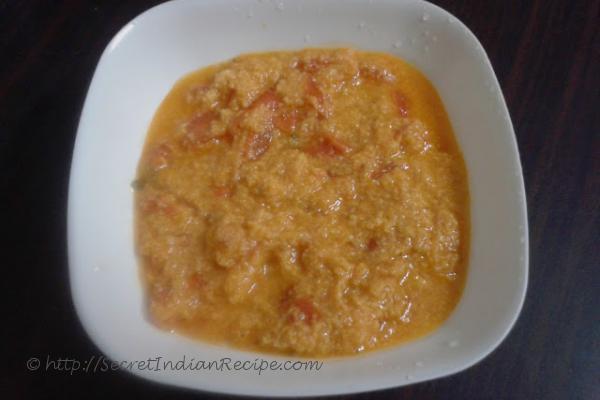 Ingredients:
Tomato (Large)-2
Shallots-3
Green Chillies-2
Grated Coconut-1/2 cup
Red chilli powder- 1/2 tsp
Turmeric powder-1/4 tsp
Fenugreek powder- a pinch
Curry leaves
Salt- as required
Water- as required
Directions:
Put the grated coconut, shallots, red chilli powder, turmeric powder, fenugreek powder and 1/4 cup of water through a blender
Transfer the blended mixture to a hard bottomed vessel
Chop the tomatoes and green chillies vertically into small pieces and add to this blended mixture.
Now, add salt, curry leaves and required amount of water to it and switch on the flame.
Continue cooking until the tomatoes get cooked well
Once the tomatoes are cooked well, switch off the gas and remove from flame
Footnotes:
The grated coconut, shallots, red chilli powder, turmeric powder and fenugreek powder should be blended well in a consistency similar to that of coconut chutney