Tomato Che Saar (tomato Curry)
It is a curry made of cooked tomatoes. Very rich in taste. It is one of the usual Maharashtrian recipes.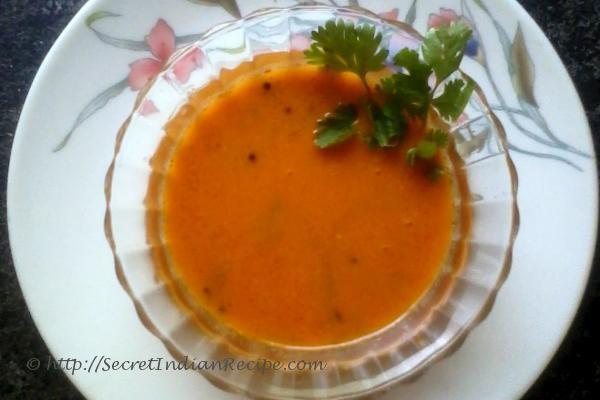 Ingredients:
1/2 kg red tomatoes
1 cup grated coconut
3-4 dry red chillies (pre-soaked)
1'' ginger
5-6 curry leaves
2 tbsp cumin seeds
2 tbsp ghee
1/2 asafoetida (hing)
pinch of sugar
salt to taste
Directions:
Cook the tomatoes in a pressure cooker, keep the water level just the same as tomatoes. After cooking peel the tomatoes and grate them well.
Take grated coconut, pre-soaked dry red chillies, ginger, and make its paste. Add this paste to the tomato puree.
Prepare a tadka with heated ghee, adding cumin seeds, curry leaves and asafoetida (hing) and add this tadka to the tomato mixture.
Keep it on a medium flamed gas and bring it to a boil. Garnish with coriander leaves.