Tomato Kichadi (tomato Curry With Grinded Coconut And Mustard)
This is a South Indian dish usually served in Onam and Vishu Sadya. No feast is there without Kichadi. My aunty made this when i visited her place. Kids love this recipe very much. Its my favourite one.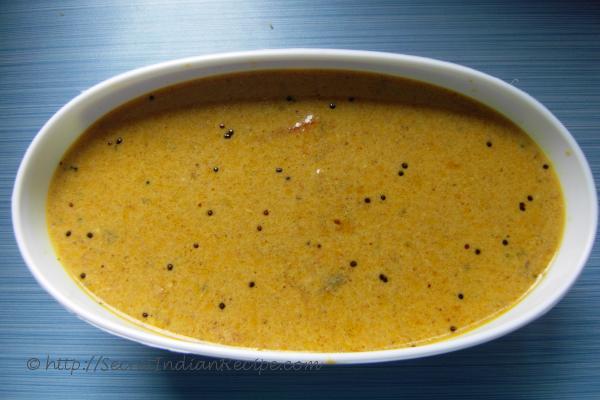 Ingredients:
Tomato (chopped) - 3
Yogurt -1 cup
Grated coconut -1/2 cup
Salt - To taste
Turmeric powder-1/4 tsp
Cumin seeds -1 tsp
Green chilli (finely chopped) 3
Mustard seeds -1 tsp
Dry red chillies -3
Coconut oil -1tsp
Curry leaves- 5- 6 leaves
Mustard for grinding -1/2 tsp
Coconut oil -2 tsp
Onion -1(chopped)
Water for grinding-2 tsp
Chilli powder -1tsp
Directions:
Grind coconut with 2 teaspoons of normal water, green chilli, mustard, onion and cumin seeds keep it aside.
Heat 1tsp coconut oil in a pan and add few mustard seeds, onions, tomatoes, turmeric powder, chilli powder and sauté for 5 minutes.
Add ground paste and salt, boil for 2 minutes.
Heat 1tsp coconut oil in another pan add mustard seeds, curry leaf and dry red chillies, sauté for a minute.
Add this seasoning to tomato mixture. Add yoghurt and mix all together.
Ready to serve with hot rice.
Footnotes:
Do not boil the Tomato Kichadi after adding yogurt.