Tondli Chi Bhaji (maharastrain Ivy Gourd Stir Fry)
Tondli or Invy gourd is quite often cooked in Maharastrian homes during Summer season. The most popular being Tondli chi bhaji with Goda masala. It is a quick and easy to make recipe as Goda masala is easily available in almost every household in Maharastra.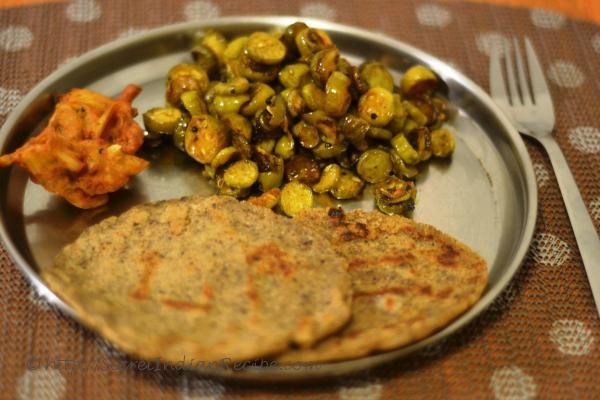 Ingredients:
Tondli (Ivy gourd) – 500 grams
Hing – a pinch
Mustard seeds – ½ teaspoon
Turmeric powder – 1 teaspoon
Red chili powder or chopped green chilies – 1 teaspoon or 3-4 chopped
Salt to taste
Oil – 4 tablespooons
Maharsatrian Goda masala – 1 tablespoons
Directions:
Wash the Tondli twice with water and then wipe with the kitchen towel. Tondli can turn sticky like ladys finger or okra if it has any water left on the surface after washing and this can trouble you when you will saute them.
Chop off the two ends and cut into thin slices.
Heat oil in a pan and first add mustard and hing. Add Turmeric and then immediately add the chopped tondli.
Keep the flame medium and sauté then until the surface start becoming a little golden.
Add the salt and the red chili powder and mix everything.
Put a lid on and cook on low flame till the tondli is cooked.
Finally sprinkle the goda masala and give a nice stir for a mintue.
Serve hot with Chappati or Bhakri.