Toor Dal Khichidi ( Split Pigeon Pea And Rice Meal)
I have a weakness for khichidi or basically the rice and lentil combo. It is this love that attracts me to a pongal or any forms of khichidi. My home version is a simple, non-spiced moong dal and rice preparation by my mom. It is very bland hence often paired with a curry. But this khichidi is quite different. I had it for the first time during my stay in Dharwad a district of Northern Karnataka. My boss told me it was the Rajasthani masala khichidi though I never found a recipe like this when I searched for Rajasthani khichidis. I tried to do this from the vague memory I had of how this khichidi tasted 7 years ago. I am still not happy and will repeat to get the exact flavour on my mind. Hope that helps till then you can try this version of khichidi. I find it a cross breed between sambar rice and khichidi how about you?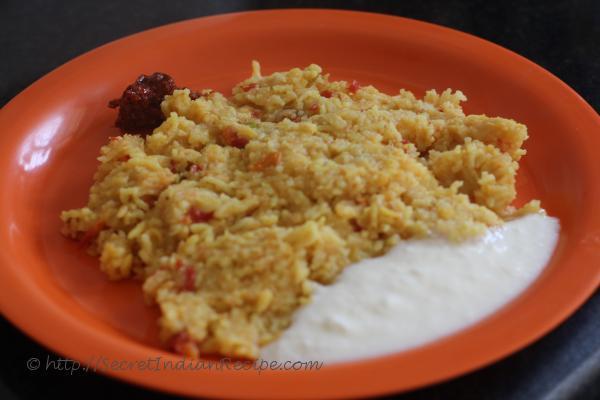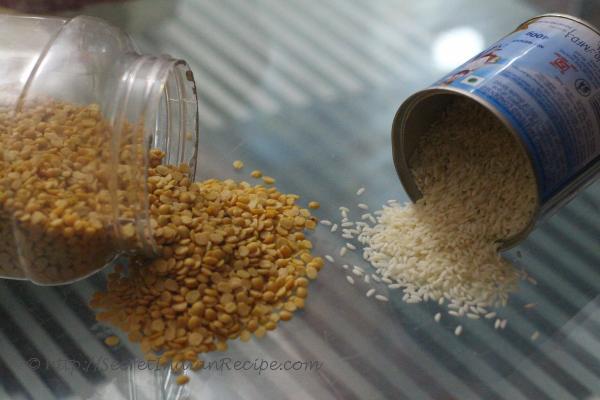 Ingredients:
Split pigeon lentils/ toor dal- 1 cup
Basmati rice- 2 cups
Onions- 2
Ginger- 1 inch piece
Garlic- 8 cloves
Tomatoes- 2
Cumin seeds- 1/2 tsp
Salt- to taste
Turmeric powder- 1/2 tsp
Chili powder- 1 tsp
Ghee- 2 tsp
Asafoetida- 1 pinch
Dry red chilies- 3
Water- 1 and 1/2 cup
Directions:
Soak the rice and dal after washing them for 2 hours in 2 cups of water.
Heat the pressure pan and add ghee. When ghee melts completely add cumin seeds and dry chilies. When the cumin sputters add minced ginger and garlic and saute till they begin to brown.
Add finely chopped onions and saute till they wilt. Now is the time to add chopped tomatoes followed by salt.
Add the spice powders after the tomatoes break down. Now add the soaked rice and dal and saute for 2-3 minutes.
Add water and pressure-cook the khichidi up to 3 whistles. Once the pressure settles open and add more water if you want your khichidi runny.
Else the khichidi is ready. Serve with curd, papad and pickle.