Unakkachemmeen Padavalanga Curry (dry Prawn And Snake Gourd Curry)
In rainy seasons when fishing is prohibited people in my hometown get out their stock of dry fish and dry prawns for preparing their meals. This dry seafood is used in stir fries, chutneys and paired with vegetables to make gravies. This is one such curry. Not many make it these days and that makes this a recipe to treasure.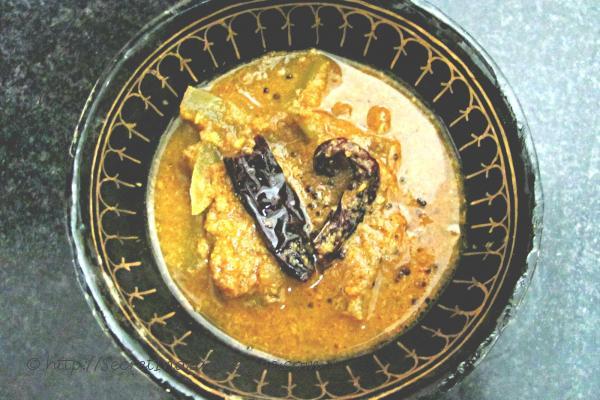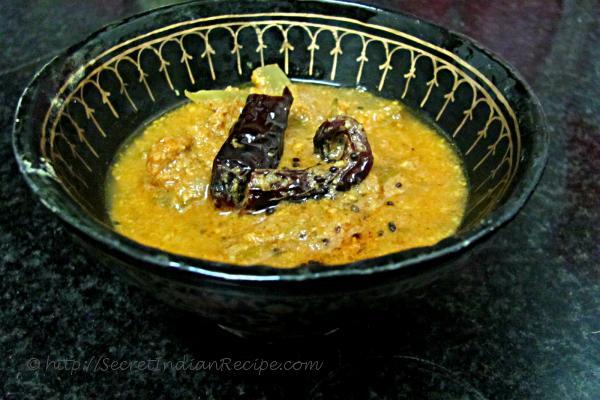 Ingredients:
Snake gourd- 1
Dry Prawns- 50 g
Grated coconut- 1 cup
Shallots- 10
Green Chilies - 2
Garlic- 6 cloves
Ginger- 1 inch piece
Coriander powder- 1 tbsp
Chili powder- 1/2 tsp
Turmeric powder- 1/2 tsp
Tamarind- size of a lemon ball
Water- 2 cups
Salt- to taste
Mustard seeds- a pinch
Curry leaves- 1 sprig
Dry chilies- 3
Oil- 5 tsp
Salt- to taste
Directions:
Clean the scales of the snake gourd remove its seeds and chop it finely.
Dry roast the prawns after removing its heads and tails. Powder it finely using a grinder and set it aside.
Heat 3 tsp oil in a pan and saute the shallots, chilies, ginger and garlic till they are translucent.
Soak the tamarind in 1/4 cup of warm water.
When the onions are translucent add the spice powders and saute for 3 minutes. Now add the sliced snake gourd and add salt.
Cover the pan with a lid and cook for 4 minutes before adding the water.
Bring the curry to a boil. Meanwhile grind the coconut with 1/4 cup water to a fine paste.
Add the ground paste to the curry and let the curry boil.
Add tamarind extract and powdered prawns and let the curry simmer.
In a small pan prepare a tempering. Heat the remaining oil and add mustard seeds, curry leaves and dry chilies.
When the mustard seed splutters and chilies and curry leaves are roasted add the tempering to the curry.
Bring the curry to a boil and switch off the flame. Serve with rice.