Upilitta Manga Achar (salted Mango Pickle)
This is an elaborate pickle because it first requires salted mangoes for which one needs to add mangoes in brine solution and then after few months these salted mangoes are pickled. But back home we preserve mangoes in brine as an annual ritual. We use these mangoes for chutneys (refer http://secretindianrecipe.com/recipe/uppilitta-nellikka-chammanthi-salte... for a version of salted gooseberry), curries and even for spicing up our buttermilk. So it is quite natural to have some leftover mangoes in brine that can be used for pickling.
This is my grandfather's recipe that I appropriated a bit. My grandfather made lemon pickle without the brine method. I love the non- red color of this pickle and call it the 'white pickle'. And soon I began making white pickles out of salted mangoes, gooseberry, garlic and bird's eye chilies. This one tastes the best maybe mangoes have a special flavor when salted.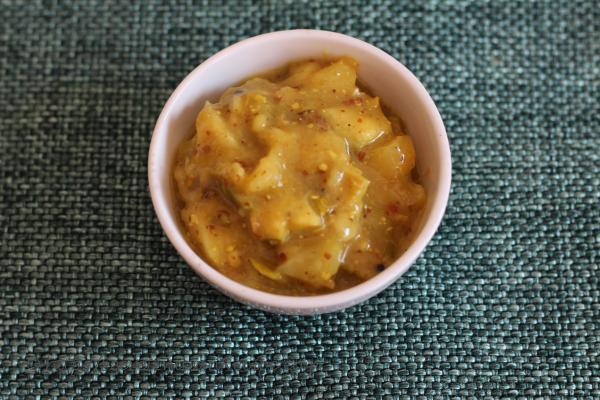 Ingredients:
Salted Mangoes- 1 kg
Garlic- 200 g
Ginger- 150 g
Green chilies- 14
Turmeric powder- 2 tsp
Fenugreek powder- 1 tsp
Asafoetida- 2 tsp
Boiled water- 3 cups
Salt- 3 tsp
Vinegar- 100 ml
Gingely oil- 150 ml
Mustard seeds- 3 tsp
Directions:
Slice the garlic, ginger and green chilies into bite size long pieces.Cut the mangoes with their seeds into long slices.
These mangoes would have softened a lot after lying in the brine for months and therefore even the seed would be soft enough to eat.
In a deep bottomed pan heat the oil and when it is hot add the mustard seeds. After the mustard splutters add the sliced ginger, garlic and green chilies.
Saute the green chilies, ginger and garlic for 3 minutes do not let it brown. Lower the flame and add the turmeric, asafoetida and fenugreek powders.
Now add the mangoes. While you slice the mangoes you will notice there are juices that will come out from the mangoes because it was in brine solution for a long time.
Do not waste the juices add them with the mango slices to the pan. Bring the pan to a boil and add the boiled water and vinegar.
Switch off the flame after the pickle simmers for 3 minutes. When the pickle has cooled completely transfer it to sterile jars.
These pickles last up to a year if stored in a cool place. It does not require refrigeration.
Footnotes:
To prepare mangoes in brine solution, buy medium sized mangoes that could have softer seeds within. Wash and add the mangoes to a brine solution in a mason jar. To prepare the brine solution add 1 cup rock salt to 2.5 liters of boiled water that has been cooled. Tie the mason jar tightly with a cloth and string so that it prevents air from entering the jar. Store the mangoes for 3 months in the brine solution before using it.
Ensure that the jar is sterile by washing it in boiled water and drying it completely before using it.