Vadugapuli Naranga Curry (wild Lemon Curry)
This is the king of all lemons I could smell them the whole day. It is the largest lemon I have ever seen and tastes good just salted, in pickles and as a curry. Though it is called a curry, it is more like a pickle just that the addition of roasted coconut will spoil it if not consumed soon. So perhaps it is a curry indeed. We often find these lemons here during the festival season of Onam. I love them in salted form with bird's eye chilies. This curry needs a day or two to settle and give the right flavors so it needs to be made days ahead if you plan to serve it for a special occasion which reminds me with the Easter season approaching I need to make this curry for my days of meat abstinence.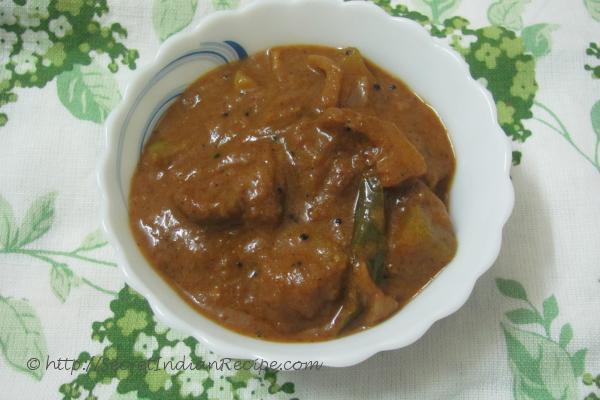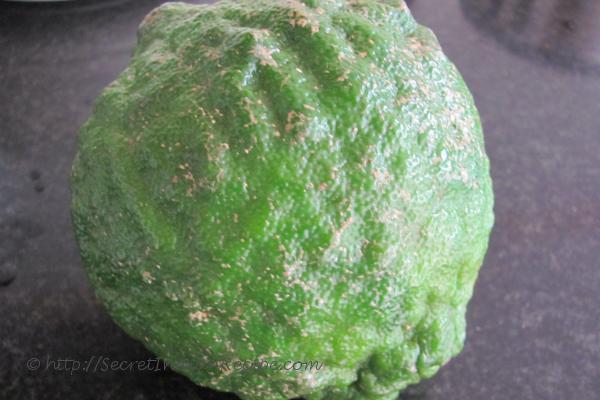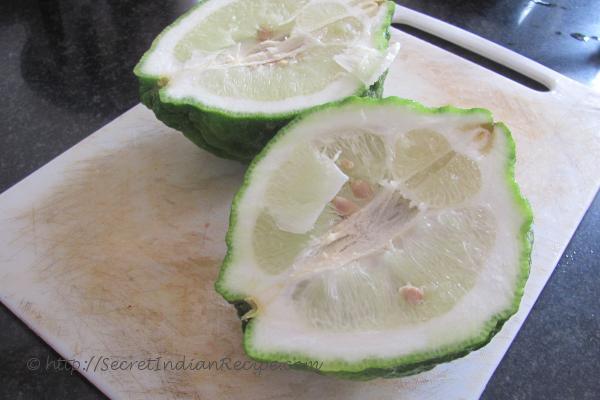 Ingredients:
Wild lemon- 1
Shallots- 10 pods
Grated coconut- 1 cup
Tamarind extract- 1/2 cup
Ginger- 1 inch piece
Green chilies- 6
Curry leaves- 1 sprig
Turmeric powder- 1/2 tsp
Chili powder- 4 tsp
Fenugreek powder- 1/4 tsp
Asafoetida- 1/2 tsp
Dry red chilies- 5
Mustard seeds- 1 tsp
Oil- 4 tbsp + 1 tsp
Water- 1/4 cup + 3 tbsp
Directions:
Peel the outer skin of the lemon and slice into small pieces. In a pan roast the grated coconut till it becomes dark brown.
As soon as the coconut is dark brown add the turmeric, chili, fenugreek and coriander powder along with asafoetida powder.
Cook the lemon with sliced shallots, chopped ginger and slit green chilies. Add 1/4 cup water and salt to cook the lemon.
Meanwhile grind the roasted coconut and spices in a wet grinder using 3 tbsp water. Add this paste to the lemon.
Add the tamarind extract and let the curry simmer. For tempering heat 1 tsp oil in a small pan and add the mustard seeds.
When the mustard seeds splutter add the dry chilies and curry leaves and saute them for a minute. Add the tempering to the curry and bring the curry to a boil.
Switch off the flame and cool the curry. The curry will thicken as it cools. Store the lemon curry in an airtight container in the refrigerator.
This curry can be used for a month if stored properly in a refrigerator. Avoid using a wet spoon to ensure longevity of this curry.
Footnotes:
There is a version that omits the addition of roasted coconut and coriander powder all the other steps remains the same. This method makes the curry last longer.