Vazhuthananga Theeyal (brinjal Roasted In Spicy Coconut Gravy)
Vazhuthananga Theeyal is a traditional Kerala recipe prepared by cooking brinjal with fried coconut paste and spices.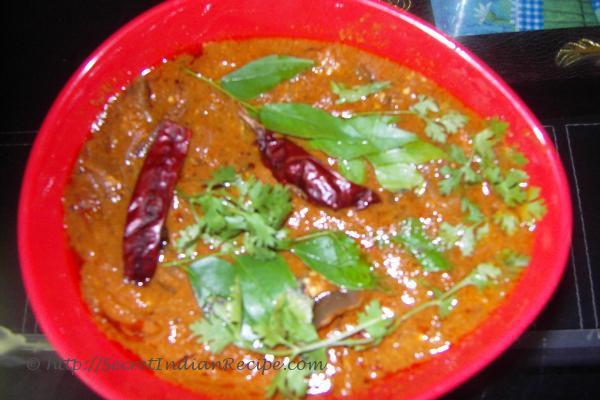 Ingredients:
Vazhuthananga/Brinjal - 4 pieces (cut into small cubes)
Grated coconut - 1/2 shell
Tamarind- 1 ball
Green chillies- 4
Turmeric powder- 1 Tablespoon
Coriander powder - 2 Tablespoon
Chilli powder- 1 Tablespoon
Curry leaves- few
Mustard seeds-1/ 2 Tablespoon
Salt - to taste
Directions:
In a pan heat some oil, put grated coconut and fry on low heat until it becomes slightly brown .
Add coriander powder, chilli powder, turmeric powder fry for 5 minutes. Then ground this with little water and keep it aside.
Take another pan and heat 2 spoons of oil. Put brinjal, Onion, green chilli and tomato. Fry for 3-4 seconds.
Add water and cook for some time. Add ground paste, tamarind paste and salt to this and mix well.
Boil for 5 minutes.
Heat oil in a pan splutter mustard seeds, red chillies and curry leaves and put this into the Theeyal.
Tasty Brinjal Theeyal is ready to serve with rice.
Footnotes:
Fry coconut and masala in correct proportion otherwise theeyal taste will not be good.