Veg Manchurian (vegetarian Dumplings The Indian Chinese Style)
Indian Chinese is a type of cuisine in itself. This popular Indian Chinese main dish is easy to make as well as delicious. Made with a variety of vegetables it may be served dry as an appetizer or in gravy with rice as main dish.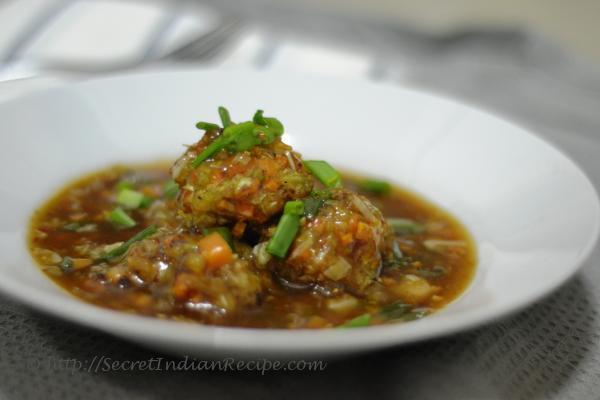 Ingredients:
FOR DUMPLINGS >>
2 Finely Chopped capsicum
1 Cup Cabbage finely chopped (Do not use a mixer/blender or grate)
1 Carrot finely chopped
2 Spring Onions (only onions) finely chopped
1/2 tsp soya sauce (light)
2 Tbsp Plain flour or maida
1 Tbsp Corn flour
1 Tbsp finely chopped garlic
1/2 tsp pepper powder
1 tsp rice flour
Water as required
Salt to taste (about 1/2 tsp)
FOR SAUCE >>
1 Bunch of spring onions chopped (whites and greens keep separate)
2 Tbsp finely chopped garlic
1 to 2 finely chopped green chilies
2 and half Tsp light soya sauce
4 Tbsp tomato ketchup
Salt to taste
3 tsp vinegar
1/2 tsp sugar
2 tbsp oil
3 tbsp finely chopped carrot
1 cup water
2 tbsp Corn flour and water slurry
Directions:
In a bowl mix all ingredients mentioned under "For Dumpling" list. Mix well and knead, add little water at a time to form into semi dough like consistency
Do not add too much water, as the vegetables will also start leaving water when salt is added. There should be just enough moisture to form small dumplings.
Heat oil for frying in a deep pan; fry the dumplings on medium heat till golden and crisp. Set aside on kitchen towel
For the sauce, heat oil in a sauce pan, when hot add garlic, onion whites, carrot, green chilies and saute for a minute
Add vinegar saute for a minute more, add tomato ketchup, soy sauce, sugar mix everything well. Add salt to taste
Add water and let it come to a boil. Add corn flour slurry to thicken
Once the sauce thickens well, add the vegetarian dumplings and cook for a minute more.
Sprinkle the spring onion greens and serve hot
For The Dry Version :
Do not add water and add dumplings straight to the cooked mixture. Just sprinkle little water if required
Footnotes:
While making the dumplings in case you add more water mix a little more rice flour or maida